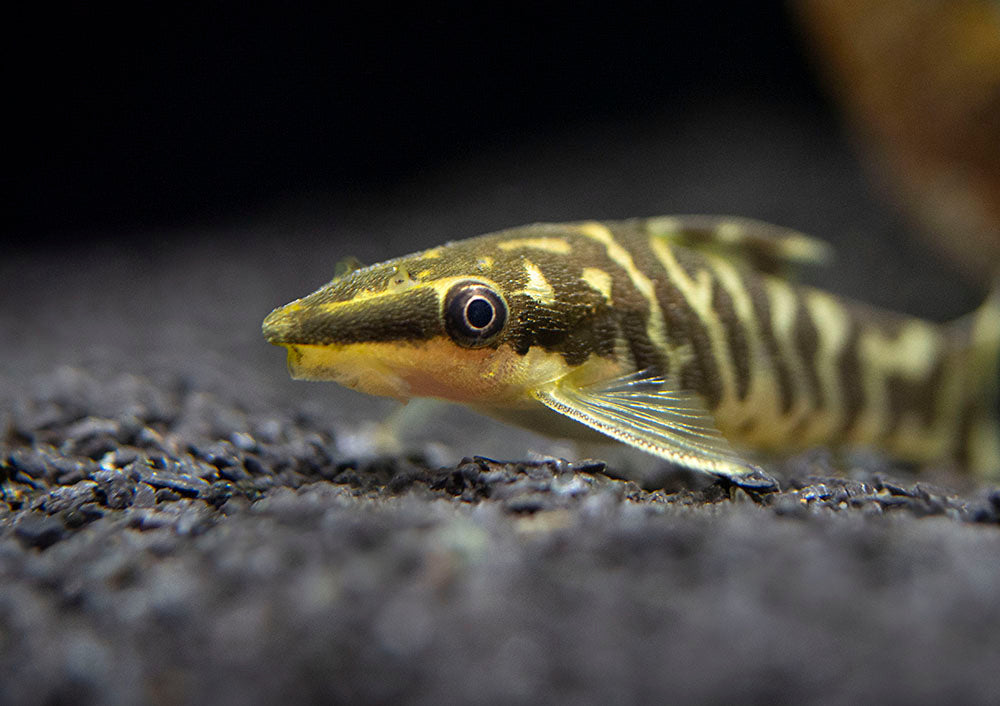 Zebra Otocinclus Catfish (Otocinclus cocama)
Details
A very impressive nano fish and superb algae eater, the Zebra Otocinclus Catfish is a rare suckermouth catfish species with a beautiful zebra pattern. 
 **INVENTORY IS EXTREMELY LIMITED** 
Identified by the "zebra" pattern along its body, the Zebra Otocinclus Catfish (Otocinclus cocama), would make a lovely uncommon addition to any freshwater aquarium. It is a very beatiful dwarf sucking catfish and, like all of its close relatives, is a superb algae eater. 
The Zebra Oto, sometimes called the Tiger Oto, is similar in size to the common Otocinclus, but is much more rare and boasts an extremely unique pattern!  Zebra Otocinclus are continuous eaters, so a well established tank is absolutely necessary.
The Zebra Oto Catfish is primarily herbivorous and will continuously feed on algae in the aquarium, but it will not harm most ornamental plants. It is a perfect specimen for a
planted aquarium
! It is compatible with most other peaceful fish and invertebrates that enjoy the same water conditions, but it might inadvertently eat very small dwarf shrimp fry as it scavenges. Relatively high water flow and clean water are necessary for this species. Like most Otocinclus, the Zebra Otocinclus Catfish is a schooling species and should be kept in groups.
Although very difficult, breeding of the Zebra Otocinclus in captivity has been achieved. In adult specimens, females tend to grow slightly larger than males.
What We Like About This Oto:
Very uncommon fish in the aquarium hobby

Very social personality

Safe with plants 

Completely peaceful fish


Great algae eater for medium and large tanks

 
Recommended Tank Parameters: 
Temperature: 70° - 77° F (21° - 25° C)

pH: 6.0 - 7.5

KH: 0 - 5 dKH
Minimum Tank Size: 15 gallons for a small group, although a larger aquarium is more optimal
Zebra Oto Care Guidelines:
Diet: Can mostly sustain on algae. If sufficient algae is not present in your aquarium, diet can be supplemented with fresh vegetables(such as romaine lettuce, cucumber, or zucchini), algae wafers, or vegetable-based flake foods.

Social Behavior: Peaceful, schooling/shoaling

Origin: Peru, South America

Average Adult Size: 1.2 - 1.6 inches (3 - 4 cm)
Average Purchase Size: 1.2 - 1.6 inches (3 - 4 cm) 
Need even more algae eaters? Aquatic Arts has plenty more to choose from!