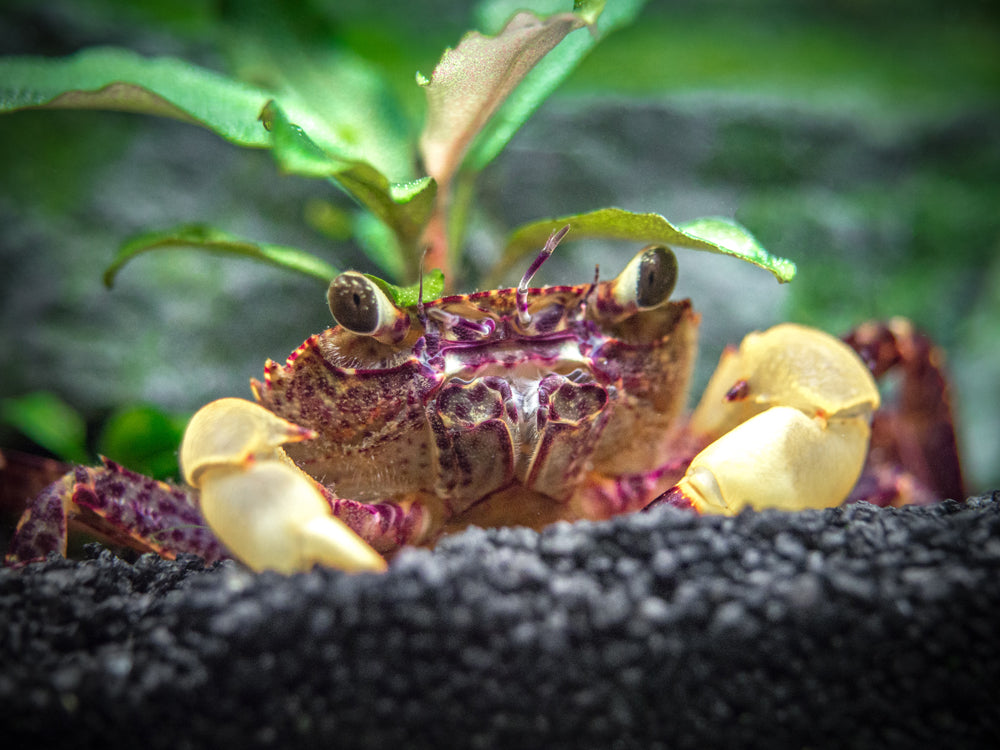 White Claw Towuti Crab (Syntripsa flavichela)
Details
Celebrating the White Claw Towuti Crab: A Marvel of Sulawesi's Waters
* For the safety of our animals, we now ship White Claw Towuti Crab exclusively via UPS 1Day Air.  If your order contains this item, you will only see UPS 1Day Air as a shipping option during checkout *
The White Claw Towuti Crab, scientifically classified as (Syntripsa flavichela), is a truly captivating and enigmatic freshwater crab species that hails from the exotic waters of Lake Towuti, situated in the pristine region of Sulawesi, Indonesia. This unique crustacean has garnered substantial attention and admiration among aquarists for its extraordinary attributes, both in terms of its striking physical features and its fascinating behaviors. As we delve deeper into this exceptional aquatic creature, we begin to unravel the allure and mystique that have made it a favored choice among dedicated aquarium enthusiasts.
What we admire about the White Claw Towuti Crab:
Distinctive Appearance: The White Claw Towuti Crab's striking combination of a dark, mottled body and contrasting white claws is visually captivating. Its unique appearance immediately draws attention and adds aesthetic appeal to any aquarium.

Inquisitive Nature: These crabs exhibit curious and active behavior. They can often be seen exploring their surroundings, foraging, and engaging in interesting activities, providing constant entertainment for aquarium enthusiasts.

Suitable for Smaller Tanks: With a manageable size of 1 to 2 inches, White Claw Towuti Crabs are an ideal choice for smaller to medium-sized aquariums, making them accessible to a wide range of hobbyists.

Low Maintenance: While they require a stable aquatic environment with quality water parameters, White Claw Towuti Crabs are relatively low-maintenance in terms of care, which can be appealing for those new to crab keeping.

Versatile Diet: Their omnivorous nature allows for a flexible diet, making it easy to provide them with a varied and balanced food regimen. This adaptability ensures that they can be well-nourished in captivity.

Unique and Enigmatic: These crabs are not only captivating to observe but also intriguing due to their behavior and distinctive biological characteristics. They bring a touch of enigma and wonder to the aquatic world.
RECOMMENDED TANK PARAMETERS:
Temperature

: 76° - 82° F (24° - 28° C)

pH

: 7.5 - 8.5

KH

: 5 - 8 dKH

Minimum tank size

: 20 gallons
CARE GUIDELINES:
Diet: Omnivorous diet, consuming both plant matter and small aquatic invertebrates. Feed on high-quality sinking pellets, fresh vegetables, and protein sources like bloodworms or brine shrimp in captivity.

Social Behavior: Territorial by nature, so select tankmates carefully. Peaceful, small, and non-aggressive fish are suitable companions. Avoid larger, more aggressive fish to maintain a harmonious environment.

Origin: Native to Lake Towuti in Sulawesi, Indonesia, known for its unique aquatic biodiversity.

Average Adult Size: Grows to a size of about 1 to 2 inches (2.5 to 5 cm) when fully mature. Ideal for smaller to medium-sized aquariums.

Average Purchase Size: Typically available for purchase as juveniles, approximately 1 to 1.5 inches (2.5 to 3.8 cm) in size. Juveniles are suitable for acclimating to your aquarium and observing their growth into their adult size.
All Aquatic Arts brand plants and animals come with a 100% live arrival guarantee, plus free email support!