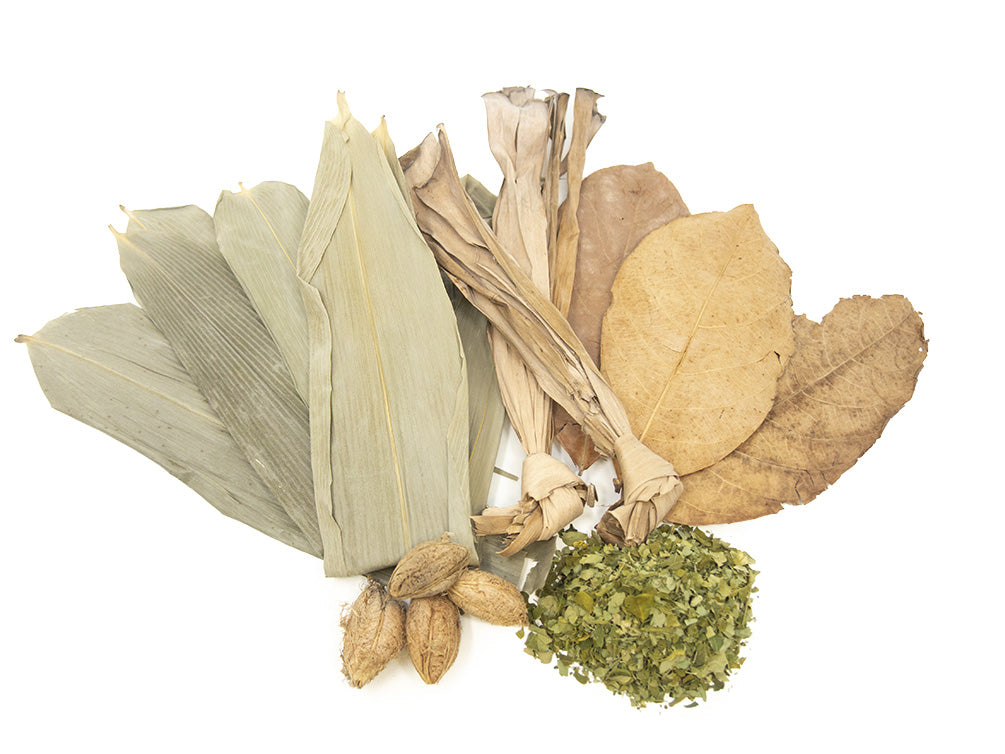 Vampire Crab Botanical Combo Pack
Details

Litter your Paludarium with our new Botanical combo pack! 
This curated value pack of our popular aquatic botanicals will meet the hopes and dreams of your Vampire Crabs! 
This Botanical Pack Includes:
5 Bamboo Leaves
4 Catappa Fruit
3 Jackfruit Leaves
2 Banana Leaves
1 oz portion of Crushed Moringa Leaf Litter
Each botanical offers unique attributes that will support your breeding colony of Vampire Crabs!
Bamboo Leaves, Jackfruit Leaves, and even Banana Leaves are ideal leaf litter for blackwater tanks as well as many other setups, providing shelter to fry and small species of shrimp, crabs, crayfish, snails, and fish while maintaining a natural look in the aquarium. They also serve as an ideal growth medium for biofilm and diatoms, both of which are key food sources to countless aquatic animal species, including shrimp and other invertebrates as well as fish. 
The Catappa Tree (Terminalia catappa) is a large tropical tree in the leadwood tree family & provides many healthy additions to your aquarium. Its fruit, like its leaves and bark, provides many healthy benefits to your tank. It has antibacterial and anti-inflammatory properties that are beneficial to fish and invertebarates, especially when newly introduced. Catappa Fruit is also rich in protein, amino acids (leucine, phenylalanine, isoleucine, histidine, valine, tryptophan, threonine, methionine, lysine, and tyrosine) as well as many phytochemicals (steroids, triterpenes, carbohydrates, triterpenoid saponins, alkaloids, polyphenols, flavonoids, tannins, and glycoside).
Moringa Leaves have extremely valuable nutritional and anti-inflammatory qualities. They are rich in vitamins A and C, calcium, magnesium, potassium, sodium, iron, and fatty acids. They are also rich in protein and they contain zeatin, which promotes plant growth.
For Individual Purchases Please Refer to our Botanical Page!