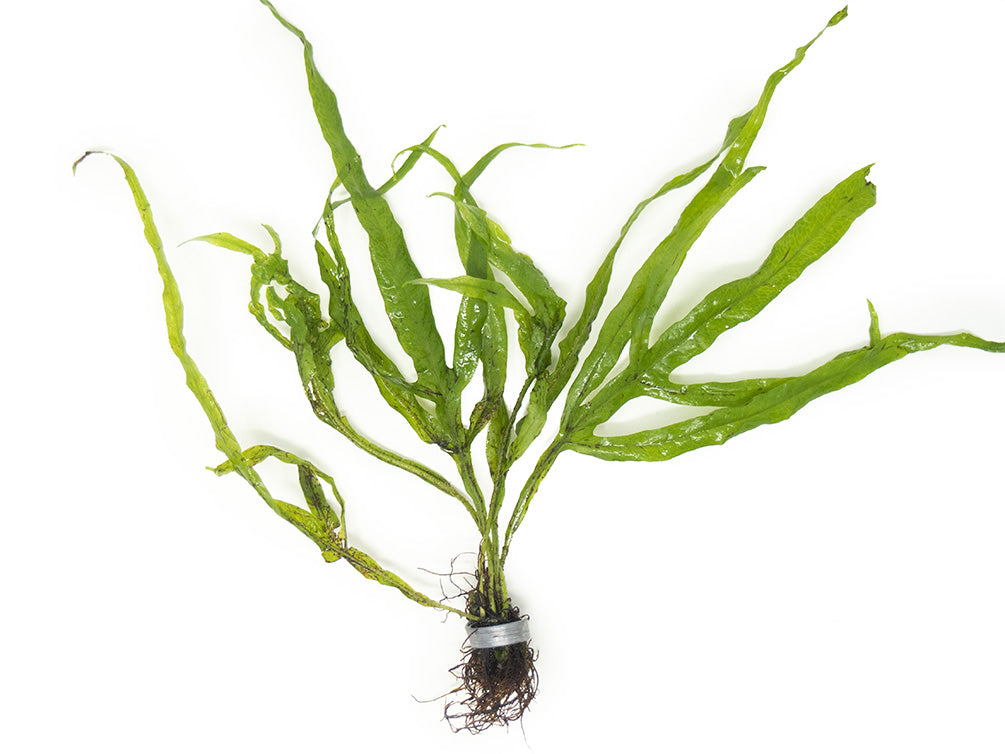 Trident Java Fern (Microsorum pteropus var. "Trident"), Bunch
Details
This variant of the ever-popular Java Fern has very distinctive "trident" formations on its leaves!
Trident Java Fern (Microsorum pteropus var. "Trident") is a fascinating variant of the classic Java Fern.  This variant is distinctive for its narrow leaves that form trident-like formations instead of the straighter, broader leaves of the standard Java Fern.  
Care for this variant is identical to the classic Java Fern, so it should be attached to aquarium décor.  It requires only low to moderate lighting and can thrive in a variety of water parameters, including lightly brackish conditions.  With quality care, the Trident Java Fern will grow at a moderate rate.
In addition to its attractive appearance, Trident Java Fern provides a valuable refuge for aquarium animals, especially dwarf shrimp, nano fish, and fry.  Trident Java Fern can easily flourish and grow to become a major centerpiece of the planted aquarium!
Like most plants, Trident Java Fern will benefit from supplementation such as Seachem Flourish, Flourish Excel, Nitrogen and other plant supplements.  However, supplementation is not required for this plant to grow and stay healthy.
Approximate shipping size is 3-5 stems at 10-15 inches tall.
 No aquarium plant distributor/nursery/wholesaler/retailer can or will guarantee their plants to be 100% snail free. We can not guarantee our plants will be snail free.
What We Like About This Plant:
Grows steadily when kept in nutrient-rich water

Excellent beginner plant

Can be attached to almost any aquarium décor

Unique variant of a classic species
Care Guidelines:
Temperature: 68° - 82.4° F (20° - 28° C)

pH: 5.0 - 8.0

Lighting: Low to moderate

Origin: Indigenous to Southeast Asia, cultivated in US nurseries

Aquarium placement: Middle and Background, but rhizome should not be completely buried

Care: Easy
All Aquatic Arts brand plants and animals come with a 100% live arrival guarantee, plus free email support!