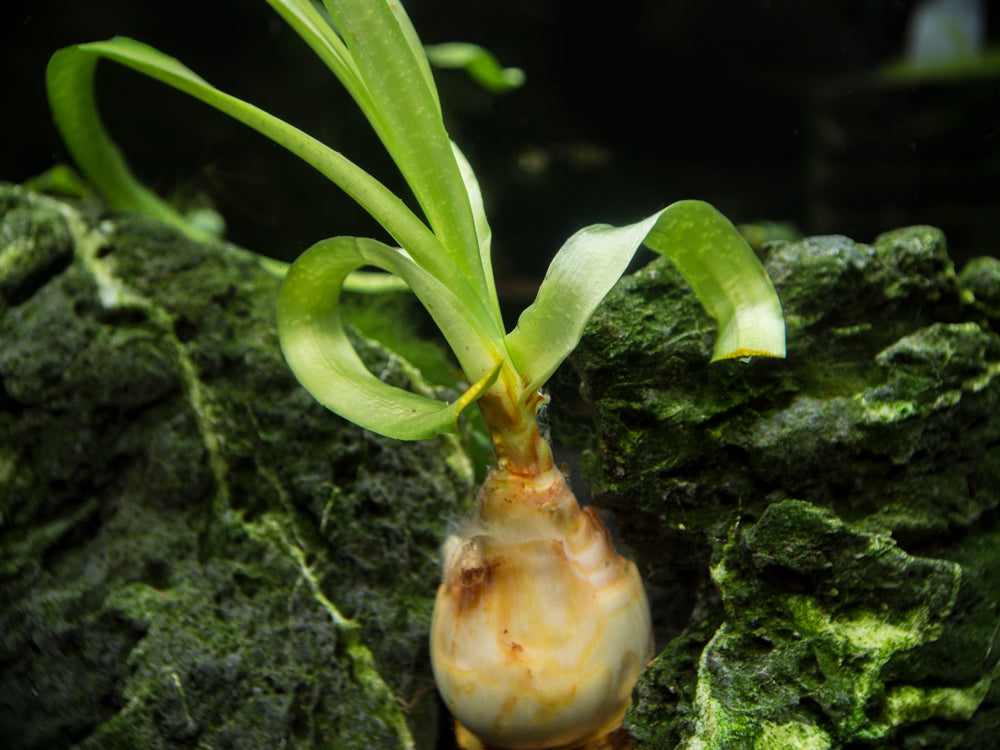 Thai Onion Plant (Crinum thaianum), Plant with Bulb
Details
This rare plant will grow to an impressive size and flower beautifully under optimal conditions!
The Thai Onion Plant (Crinum thaianum) is a unique bulb plant that can be grown emersed or submersed. It can grow quite tall and will produce a large white flower under good conditions. This plant grows in a rosette formation and is generally resilient as long as it is not moved often.
Care for the Thai Onion Plant is not difficult as long as a few key needs are met. Its bulb base should not be completely buried in the substrate or it can rot. It requires moderate to high light. It does not require CO2 supplementation, though it will certainly benefit from such supplementation and is more likely to flower under such conditions. The Thai Onion Plant develops a strong root structure, so it will benefit from nutrient-rich substrate. It is best planted in the middle or background of the aquarium.
In addition to its attractive appearance, Thai Onion Plant provides a valuable refuge for aquarium animals, especially dwarf shrimp, nano fish, and fry. Thai Onion Plant can easily flourish and grow to become a major centerpiece of the planted aquarium!
Like most plants, Thai Onion Plant will benefit from supplementation such as Seachem Flourish, Flourish Excel, Nitrogen and other plant supplements. However, supplementation is not absolutely required for this plant to grow and stay healthy in a nutrient-rich aquarium.
No aquarium plant distributor/nursery/wholesaler/retailer can or will guarantee their plants to be 100% snail free. We can not guarantee our plants will be snail free.
What We Like About This Plant:
Grows to an impressive size

Beatiful long, green leaves

Truly aquatic and undemanding
Fairly uncommon in the aquarium hobby 
Care Guidelines:
Temperature: 68° - 82.4° F (20° - 28° C)

pH: 6.0 – 9.0

Lighting: Moderate to High

Origin: Indigenous to Thailand, cultivated in US nurseries

Aquarium placement: Middle and Background, but bulb should not be fully buried in substrate

Care: Easy to Moderate
All Aquatic Arts brand plants and animals come with a 100% live arrival guarantee, plus free email support!