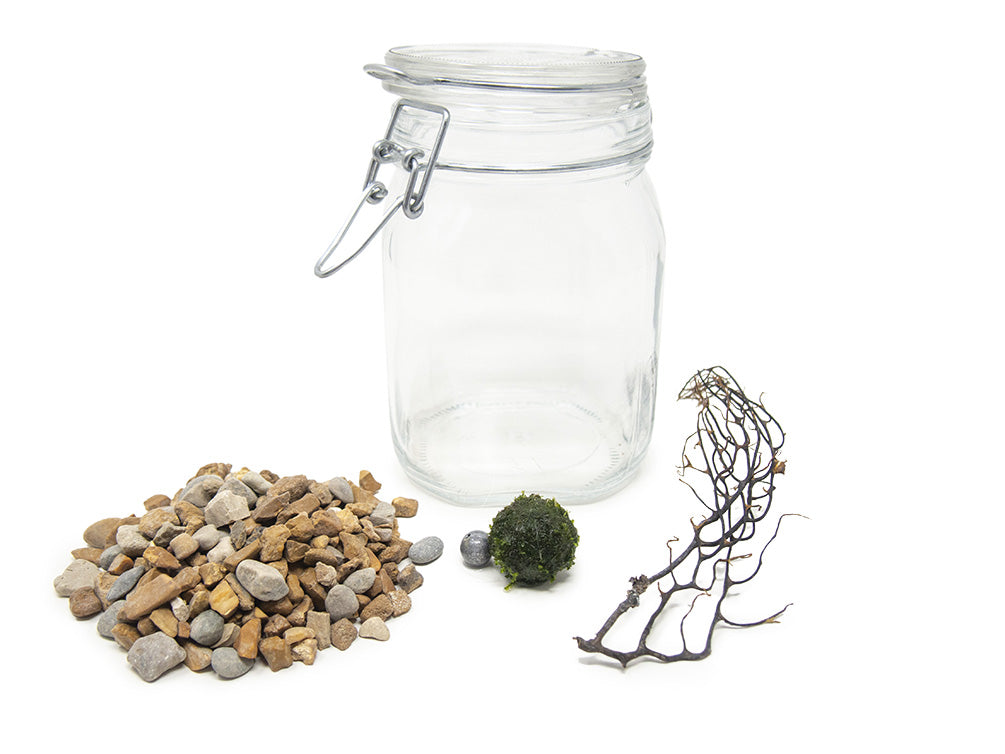 Aquatic Arts Desktop Terrarium
Details

A great and durable decoration for your home, office, or patio! 

Desktop Terrarium Kit 
Our terrarium kits are a perfect addition to your office or desk requiring minimal maintenance and care.  As long as your jar is in direct sunlight, your water and plants will be looking great!  It will thrive even in tap water with a water change once every 2 weeks or as you see fit.  A few Aquatic Arts employees have these on their desks & love them! It is fantastic gift for children to teach them about the responsibility of owning and taking care of an aquarium. Though no animals are present, its an easy opportunity to discuss the basics of an ecosystem and general scientific processes such as photosynthesis.  Furthermore, they can make great gifts as they are easy to set up and maintain for friends & family that may not be in the hobby.  Similar to having an aquarium or being closer to nature,  these can help relieve stress & have therapeutic benefits to spaces where an aquarium is not possible. 
 PLEASE NOTE : no animals should be housed in these jars!  
Certain small pockets of the hobby & industry still allow this practice to happen! Please help the community to stop this practice & provide proper homes for all livestock. 
Directions:
1. Rinse river rocks before adding to the jar to remove excess debris.
2. Add river rocks & smooth out to desired level.
3. Position the sea fan to your liking.
4. Position the floating moss ball( w/weight added) or mushroom tree. 
5. Slowly fill the jar with aquarium safe water (for the java moss). 
6. Close the Lid & Enjoy! 
Desktop Terrarium Kit Features:
38 ounce heavy glass authentic Italian swing top bale jar with vintage-style locking mechanism for the glass lid.  The jar is squared with rounded edges. Unlike round jars, this jar provides non-distorted viewing angles that don't produce a "fisheye" effect when viewing
4x4 bag of river stones & pebbles (.5 lbs.)  
Single mini natural coral sea fan 
We offer two plant features for your jar : our floating java moss ball or java moss mushroom tree