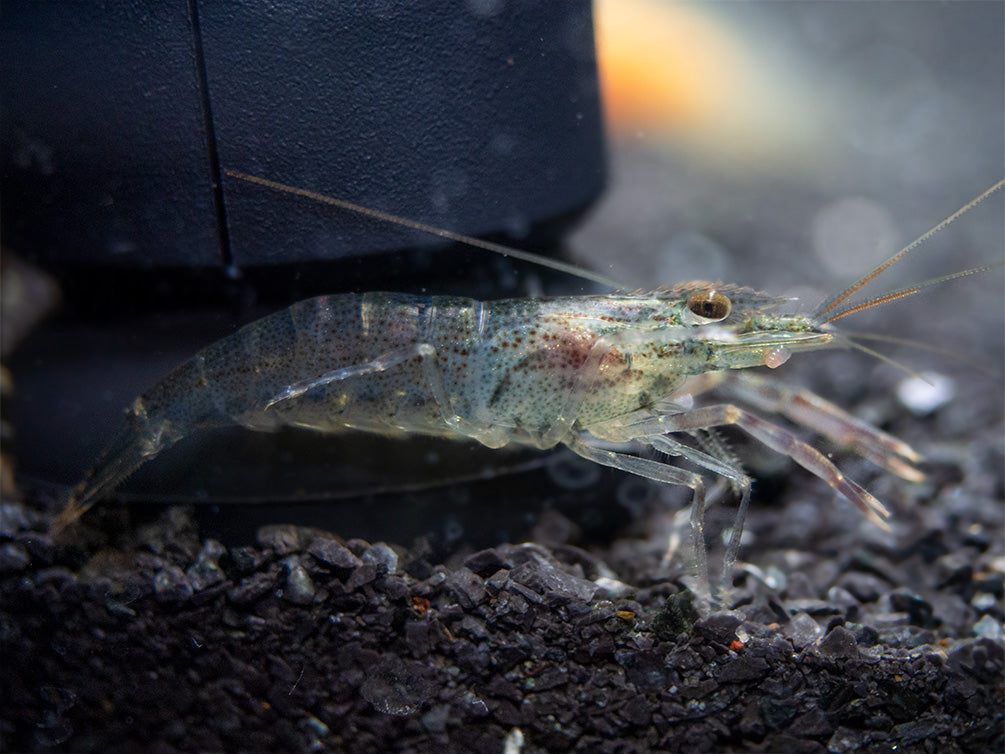 Taiwanese Long Claw Prawn (Macrobrachium placidulum)
Details
PLEASE NOTE: This species will prey upon other small invertebrates and fish that inhabit the same areas of the aquarium. This species should not be kept with dwarf shrimp, most snails, and slow-moving or bottom-dwelling fish. It is an opportunistic omnivore and it will eat anything that it can catch.
This very uncommon "prawn" is a smaller species that is an excellent oddball mini-predator that has an unusual appearance and plenty of personality!
The Taiwanese Long Claw Prawn (Macrobrachium placidulum) is a smaller Macrobrachium species that is very uncommon in the aquarium hobby. While Macrobrachium species are not considered true prawns, the "prawn" name is widely used due to their many similarities to true prawns. They are not quite shrimp, but not quite crayfish, yet they have many similarities to both. As the name of this species states, it has noticeably long claws, and males have even longer claws than females. This particular species is amphidromous, meaning that it spends the early larval stages of its life in brackish or saltwater, then migrates to freshwater for its adult life.
Taiwanese Long Claw Prawn, while relatively small in size, is considerably more aggressive and territorial than freshwater shrimp. It is more comparable in personality to most crayfish. Males are territorial with other males and should not be kept together in a small tank. Males are reportedly much less aggressive toward females, and a pair can be kept together in a tank as small as 20 gallons as long as ample cover is provided. The Taiwanese Long Claw Prawn will do some digging and excavating in in its habitat, so delicate plants should be avoided. However, this small predator can be kept with more durable plants such as Anubias, Cryptocoryne, and Java Fern. This species is somewhat adaptable regarding water parameters, but it will not do well in soft or excessively warm water. Like crayfish, will sometimes prey on fish and other invertebrates that inhabit the same areas of the water column. It can sometimes be kept successfully with agile fish that inhabit other areas of the tank.
The Taiwanese Long Claw Prawn is an opportunistic omnivore. It is not a picky eater, and it should be offered a varied diet of dry, frozen, and live foods that contain both animal and vegetable matter. It will spend most of its time foraging around its chosen territory at the bottom of the aquarium.
Our B-Grade option for this species is simply for specimens that are missing a claw or multiple legs. This is completely normal for a crustacean and the missing appendage(s) will grow back within 1-2 molts.

What We Like About This Prawn:
Very rare in the aquarium hobby

Very manageable dwarf size
Unique appearance

Excellent scavenger 
Generally safe with durable plants
RECOMMENDED TANK PARAMETERS:
Minimum tank size:

10+ gallons per specimen

Temperature:

65 – 75° F (18 - 24° C)

pH: 7.0 – 8.0
dGH: 3 - 15
dKH:

 

1

 

- 7 
TDS:

 

100 - 400 
CARE INFORMATION:

Diet: Omnivorous. Requires a varied diet of animal and plant matter. Most dry, frozen, and live foods will be accepted, as will most vegetable matter
Social behavior: Can be aggressive/territorial with its own kind. Prawns will typically eat whatever they can catch, but since they are slow-moving, they are not often able to harm fast-moving fish that inhabit other areas of the aquarium.
Origin: Taiwan. Also reportedly native to the Philippines
Average adult size: 2 - 3 inches (5 - 7.6 cm)
Average purchase size: 1 - 2 inches (2.5 – 5 cm)
All Aquatic Arts brand plants and animals come with a 100% live arrival guarantee, plus free email support!