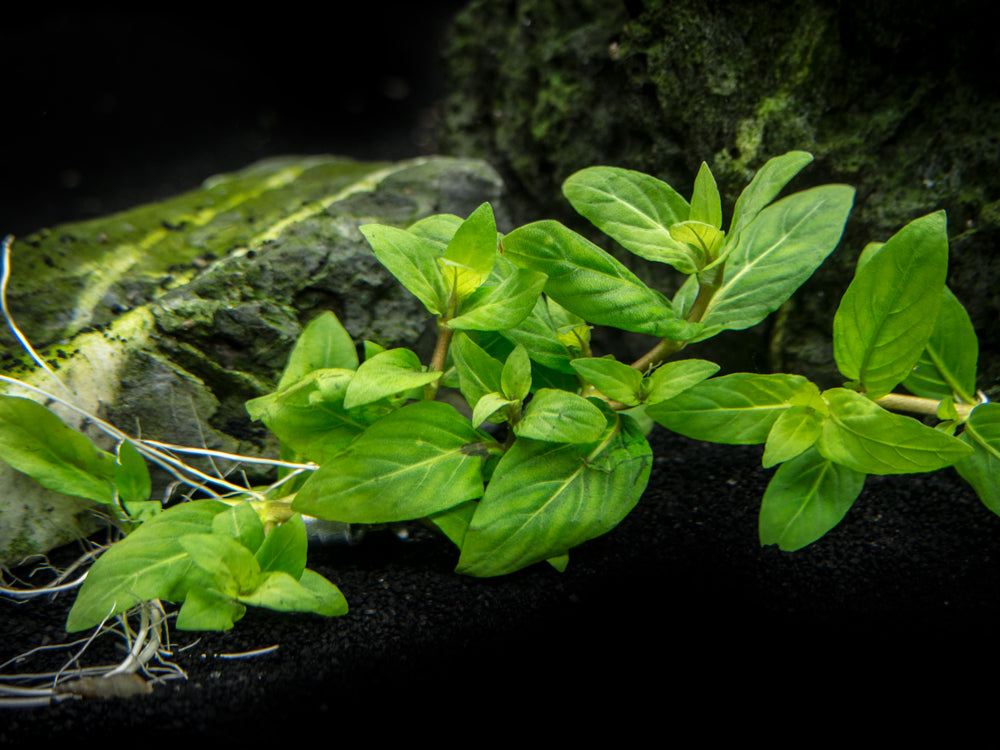 Staurogyne repens (Staurogyne repens), Clump
Details
(N
This superb foreground plant is perfect for carpeting the substrate of the aquarium!
Staurogyne repens is one of the most popular foreground plants for the serious freshwater aquarium. In time and with the proper care, it creates a lush green carpet that can cover the entire foreground of the aquarium. It can also be attached to cover rocks and driftwood as well. It is very easy to maintain and propagate.  
While not an expert-level plant, Staurogyne repens requires proper water conditions and maintenance for optimal growth. It prefers relatively loose, nutrient-rich substrate and full spectrum lighting. CO2 supplementation is beneficial and will contribute to much faster growth and stability. For carpet-like growth, shoots over 2 inches (5 centimeters) should be cut and replanted continuously. The cuttings will form dense root structures and will eventually spread across the entire aquarium.  
We sell this plant in clumps that each have several leaves.
Like most plants, Staurogyne repens will benefit from supplementation such as Seachem Flourish, Flourish Excel, nitrogen, and other plant supplements.  
No aquarium plant distributor/nursery/wholesaler/retailer can or will guarantee their plants to be 100% snail free. We can not guarantee our plants will be snail free.
What We Like About This Plant:
Rich, bright green coloration that can eventually cover the entire aquarium foreground
Easy to moderate care
Provides protective cover for fry
Excellent carpeting plant
Care Guidelines:
Temperature: 68° - 82° F (20° - 28° C)
pH: 6.0 - 8.0
Lighting: Moderate to high
Origin: Indigenous to South America, cultivated in nurseries
Aquarium placement: Foreground
Care: Easy
All Aquatic Arts brand plants and animals come with a 100% live arrival guarantee, plus free email support!