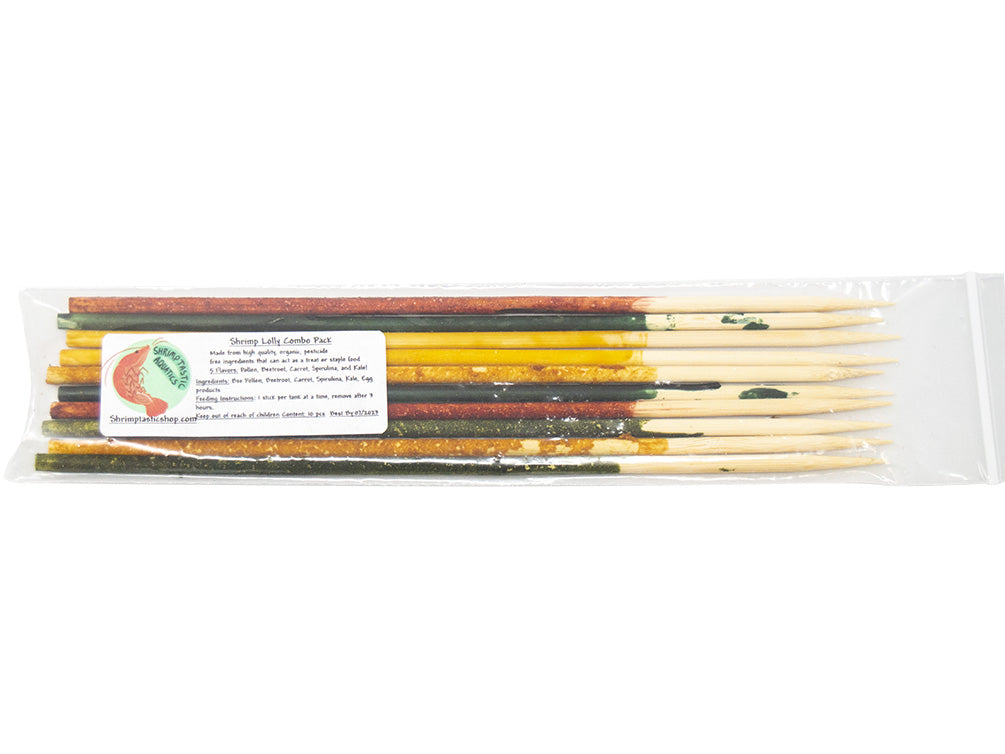 Shrimptastic Aquatics Lollies - All-Organic Varieties
Details
Shrimptastic Aquatics Shrimp Lollies are a nutritious food source for shrimp, snails, plecos, and other aquarium animals. 
Made by hand in the USA, these nutritious treats will provide a feeding frenzy that will light up your aquarium and provide superb nutrition! 
Treat your aquarium animals to an exquisite meal with Shrimptastic Aquatics Shrimp Lollies!
We are very excited to offer Shrimptastic Aquatics Lollies! These nutritious food sticks are handmade in the US with the finest ingredients and are a top-notch food source for shrimp, snails, plecos, and all other aquatic animals that graze. 
Shrimptastic Aquatics Lollies are labeled as "Shrimp Lollies," and that is an accurate name. Shrimp will immediately swarm these deluxe food sticks and receive a nourishing meal. However, these lollies are not limited to shrimp. Snails, plecos, and all other omnivorous or herbivorous fish and invertebrates will readily seek and eat these food sticks with remarkable vigor! Just place the lolly in the aquarium and watch your fish and inverts feast like never before!
These deluxe, handmade shrimp lollies are made from high-quality, organic, pesticide-free ingredients that can serve as a treat or staple food. They're also made mere hours from our location by a passionate, dedicated aquarist that sought to provide a superior food source to his aquarium animals, and now he is making that food for your aquarium as well! With Shrimptastic Aquatics, there are no preservatives, no artificial ingredients, and no factory mass-production. Each lolly is made with the greatest care, attention, and ingredients. These lollies are true homemade, handmade, organic goodness for your shrimp, snails, and all other grazing animals, including fish! 
Please check out their website for further information on these lollies!
Keep out of reach of children. 
Feeding Instructions: Simply use 1 stick per tank per feeding. Remove any uneaten portion after 3 hours.
Ingredients: Bee Pollen, Beetroot, Blue-Green Spirulina, Carrot, Kale, and/or Egg products. 
We offer 5 different types & also a combo pack with all 5 (2 of each type):
Bee Pollen: Made from high quality, organic, bee pollen, these lollies contain 18 natural essential vitamins that are a great addition to your shrimps diet. 
Beetroot: Made from high quality, organic, beetroot, Beetroot is  very high in vitamin C and carotenoids which promote shell development and enhance coloration. 
Blue - Green Spirulina: Made from high quality, organic, blue-green spirulina algae, and are a great source of proteins and color enhancing carotenoids. These are a great addition to your shrimps diet as either a treat or staple food. 
Carrot: Made from organic locally sourced carrots! Carrots are very high in beta carotenes, vitamin K and tons of antioxidants, which greatly benefit shell development breeding rates, and the overall health of your shrimp! 
Kale: Made from extremely high quality, organic, kale! Kale is very high in vitamin C, vitamin K, and Iron. This greatly helps with shell development and prevents failed molts.