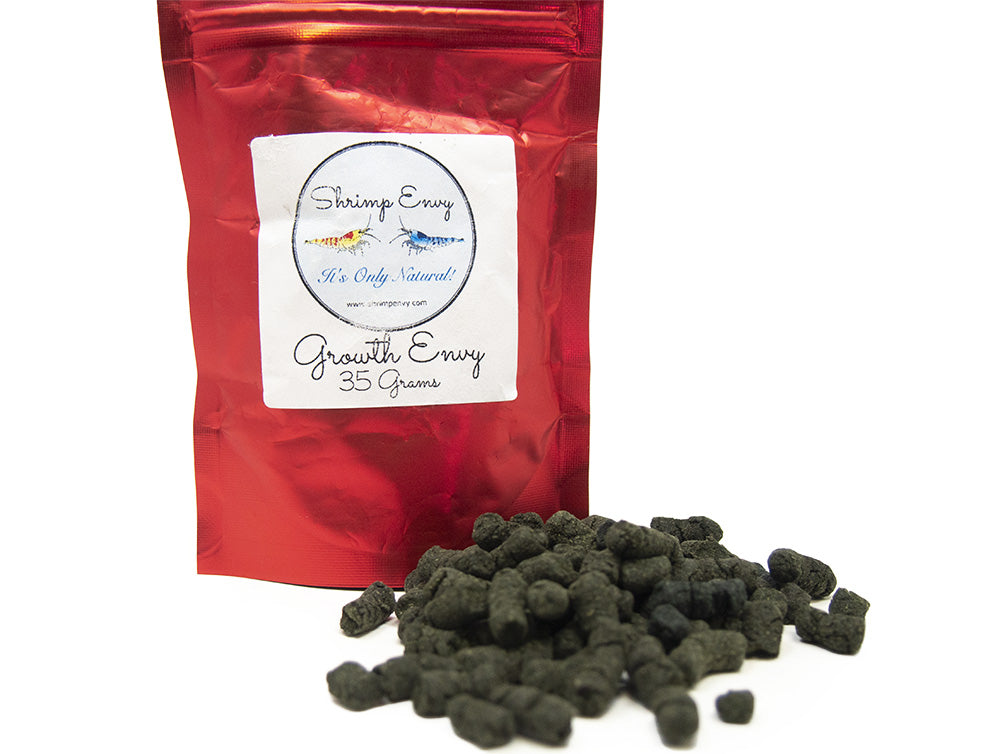 Shrimp Envy - Growth Envy Protein Shrimp Food
Details
 
Shrimp Envy - Growth Envy Protein Shrimp Food - 
plant based protein that helps grow your shrimp
We are very excited to offer Shrimp Envy - Shrimp Foods! A great blend of superfoods, hand-made, in small batches for all types of freshwater shrimp. A product we proudly use to feed all of our shrimps at Aquatic Arts.
Growth Envy is a substantial blend of great protein rich, plant based foods that will aid in the growth of your shrimp. Unlike many other foods, we have opted to use the plant based proteins as this is healthier and closer to their natural diet than using a meat based protein. Please note that feeding a protein rich diet needs to be done with caution as this can lead to molting issues which can be detrimental to your shrimps overall health.
Keep out of reach of children. 
Feeding Instructions: Feed 1-2 pellets once a week. Remove any uneaten food after 2-3 hours.
Ingredients
:
kale, mulberry, nettle, dandelion, moringa, spinach, spirulina, chlorella, bee pollen, kelp, alfalfa, wheatgrass, black walnut, and other wonderful ingredients your shrimp love. There are also important nutrients and minerals such as beta-glucan, calcium, montmorillonite, amino acids, trace minerals, chitin, yeast, and probiotics.