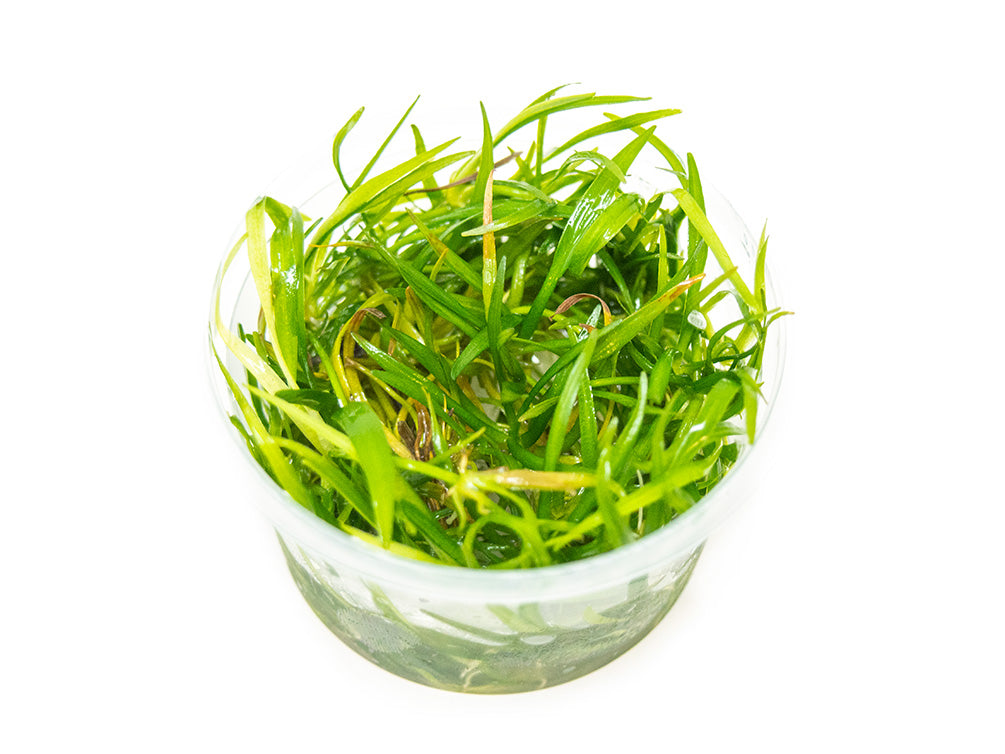 Pygmy Chain Sword (Helanthium tenellum "Green") Tissue Culture
Details
Pygmy Chain Sword is one of the easiest carpeting foreground plants to keep and it can even thrive in low-light/low-tech setups! 
Pygmy Chain Sword (Helanthium tenellum, formerly known as Echinodorus tenellus) is a long-celebrated carpeting foreground plant in the aquarium hobby due to its ease of care and attractive grass-like appearance. This prolific plant can thrive under most levels of lighting and does not have any special requirements beyond nutrient-rich substrate (which is a requirement of most aquatic plants with roots). It propagates through runners and plantlets, which can be clipped and replanted elsewhere in the aquarium. It can also be planted emersed in terrariums, paludariums, and viquariums.
Care for Pygmy Chain Sword is very simple. It grows quickly when provided with nutrient-rich substrate and moderate to high lighting. It will grow at a slower pace under lower lighting. It should not be planted in the shadows of taller plants. Under optimal conditions, it can grow at such a rate that it needs to pruned regularly. Like many plants, this plant will respond significantly to CO2, but it does not require it.   
This listing is for the tissue culture form of Bolivian Chain Sword. Tissue cultures are superior to traditional forms of aquarium plants in many ways. They are produced in a completely sterile environment which eliminates the possibility of them carrying pest snails or algae spores. They have a shelf life (before introduction to the aquarium) of several months if properly maintained and they are housed in a nutrient gel until introduced to the aquarium. To introduce a tissue culture plant to the aquarium, simply rinse off as much nutrient gel as possible, then plant as usual. The nutrient gel will not harm your aquarium.  
What We Like About This Plant:
Tissue cultures contain no unwanted pest animals or algae
Excellent in low-tech setups
Prolific and easy to prune
Distinctive foreground plant
Very easy to maintain
Care Guidelines:
Temperature: 68° - 84° F (20° - 29° C)
pH: 6.2 - 7.5
Lighting: Low to High
Origin:

Lab-grown tissue culture, but indigenous to North and South America

Aquarium placement: Foreground to Midground
Care: Easy
All Aquatic Arts brand plants and animals come with a 100% live arrival guarantee, plus free email support!