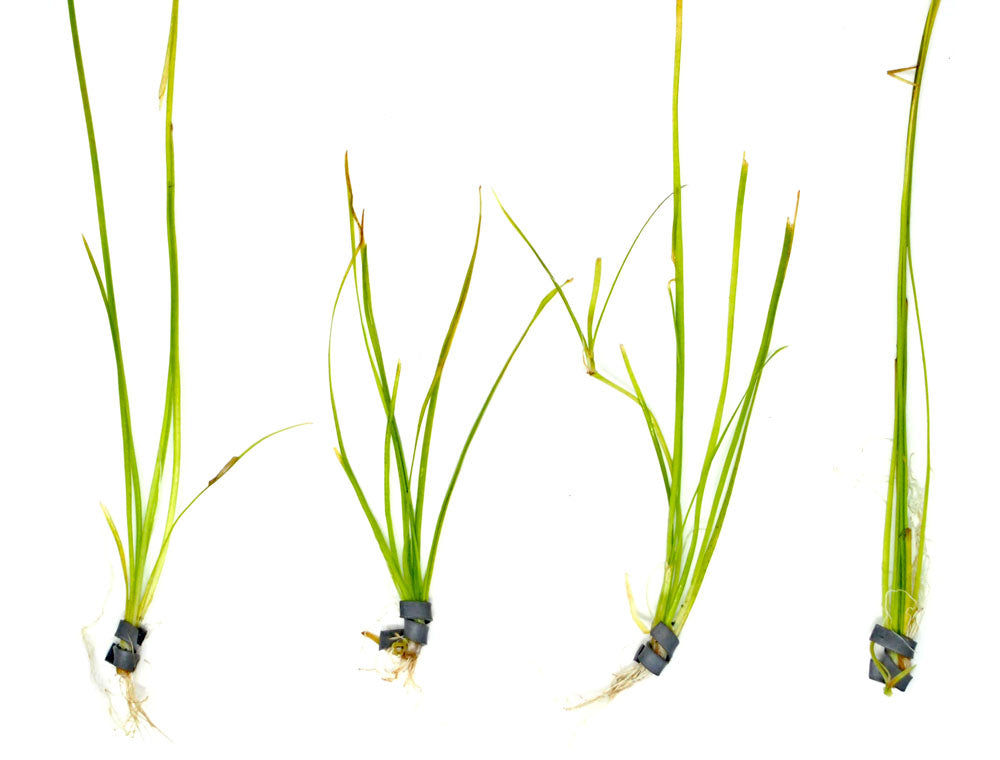 Narrowleaf Vallisneria (Vallisneria nana), Bunch w/Lead
Details
Narrowleaf Vallisneria is a unique "Val" species that is extremely grass-like and is a superb mid-ground or background plant!
Narrowleaf Vallisneria (Vallisneria nana) is a very attractive, yet hardy and undemanding plant that is ideal for the background of the small to medium aquarium. It is a very popular plant species in the aquarium hobby due to its ease of care and durability. It is a perfect background plant that will often grow all the way to the top of the aquarium and it propagates prolifically. 
Narrowleaf Vallisneria is a member of the tapegrass plant family. It can grow up to 20 inches tall and it provides valuable refuge for timid fish and fry, which will actually encourage those shy species to venture into the open more often. Narrowleaf Vallisneria should be planted with its crown above the substrate. It will establish strong roots and is unlikely to be uprooted by bottom-dwelling fish. Its leaves should not be trimmed, as they will typically rot and fall off when damaged.
No aquarium plant distributor/nursery/wholesaler/retailer can or will guarantee their plants to be 100% snail free. We can not guarantee our plants will be snail free. 
Please Note: This plant will sometimes shed its leaves when transported into a new aquarium. It is usually still alive in this state and should not be discarded. It will typically grow new, stronger leaves rather quickly if it is planted and allowed to acclimate. 
Narrowleaf Vallisneria does not require CO2 supplementation or overly high lighting. It prefers slow-moving, hard water that is rich in calcium, but it is highly adaptable to most water parameters. It will grow fastest under high lighting, but it can adapt to moderate lighting as well. It is very flexible and will even grown in sand, but of course will grow faster in nutrient-rich substrate.
Like most plants, Corkscrew Vallisneria will benefit from supplementation such as Seachem Flourish, Flourish Excel, iron, potassium, nitrogen, and other plant supplements.
What We Like About This Plant:
Tall growth that is ideal for the background of small to medium aquariums
Very easy to propagate
Provides a great deal of cover for animal fry
Very hardy and durable
Grass-like appearance
Care Guidelines:
Temperature: 72° - 82° F (22° - 28° C)
pH: 6.0 - 7.5
Lighting: Moderate to High
Origin: Indigenous to Central and South America, cultivated in US nurseries
Aquarium placement: Background, Midground in larger aquariums
Care: Easy to Moderate
All Aquatic Arts brand plants and animals come with a 100% live arrival guarantee, plus free email support!