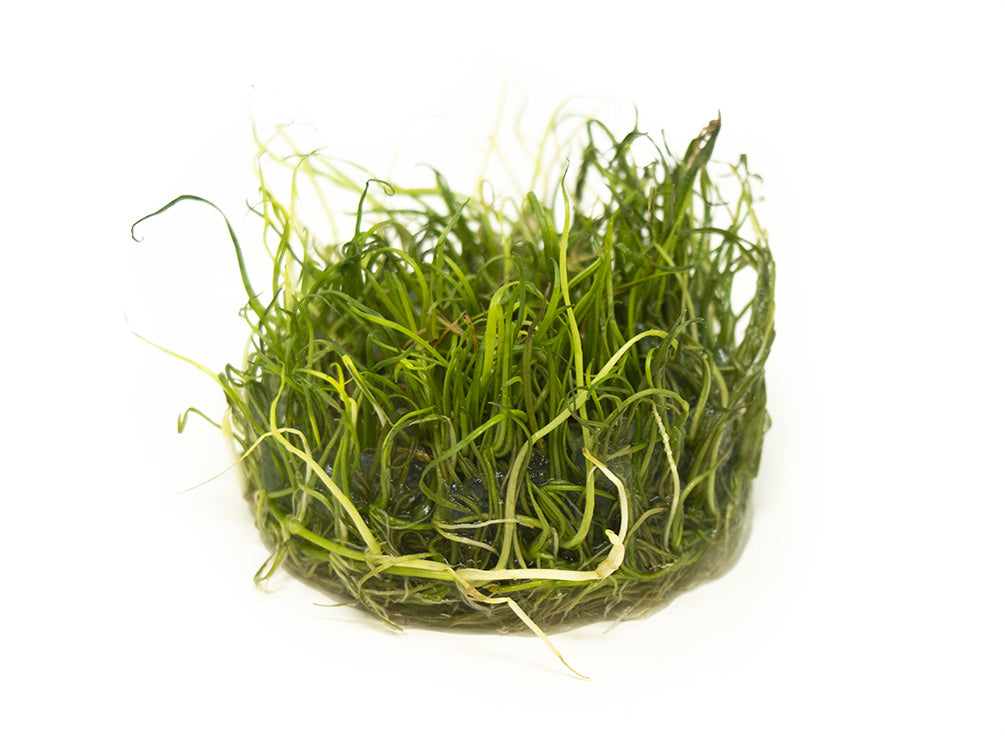 Narrow Leaf Micro Sword (Lilaeopsis mauritiana) Tissue Culture
Details
This grass-like micro sword species is exceptional for creating a "lawn" in the foreground of the aquarium!
Narrow Leaf Micro Sword (Lilaeopsis mauritiana) is a very compact, aquatic carpeting plant that always looks excellent in the foreground of aquariums. Narrow Leaf Micro Sword leaves are slightly thinner and shorter than other micro sword species. 
Narrow Leaf Micro Sword is a slow growing carpeting plant that will grow lower to the substrate and thicker the higher the light intensity. It will form runners that can be split and propagated throughout the tank. This plant is excellent for providing cover for fish and invertebrates. It may require trimming back due to its speed of growth, especially in set-ups with high-intensity lighting. It requires nutrient rich water and substrate for optimal growth. In lower light setups, it will grow taller. It will stay shorter and spread horizontally more quickly in higher light setups.
This plant is very low-maintenance, making it great for both beginners and experienced aquarium hobbyists! It does not need any special or high-intensity lighting, and it is perfectly safe to keep with all aquatic animals. The grass provides great cover and, like all live plants, helps keep water clean and high quality.
Tissue cultures are superior to traditional forms of aquarium plants in many ways. They are produced in a completely sterile environment which eliminates the possibility of them carrying pest snails or algae spores. They have a shelf life (before introduction to the aquarium) of several months if properly maintained and they are housed in a nutrient gel until introduced to the aquarium. To introduce a tissue culture plant to the aquarium, simply rinse off as much nutrient gel as possible, then plant as usual. The nutrient gel will not harm your aquarium.  
What We Like About This Plant:
Tissue cultures contain no unwanted pest animals or algae
Superb foreground carpeting plant
Grows in a dense mat that will easily cover a large area if desired
Provides a great deal of cover for animal fry
Very hardy and durable in a nutrient-rich aquarium
Care Guidelines:
Temperature: 70° - 83° F (21° - 28° C)
pH: 6.0 - 7.5
Lighting: Medium to High
Origin:

Lab-grown tissue culture, but indigenous to the Island of Mauritius

CO2: Medium for thicker growth

Aquarium placement: Foreground
Care: Medium
All Aquatic Arts brand plants and animals come with a 100% live arrival guarantee, plus free email support!