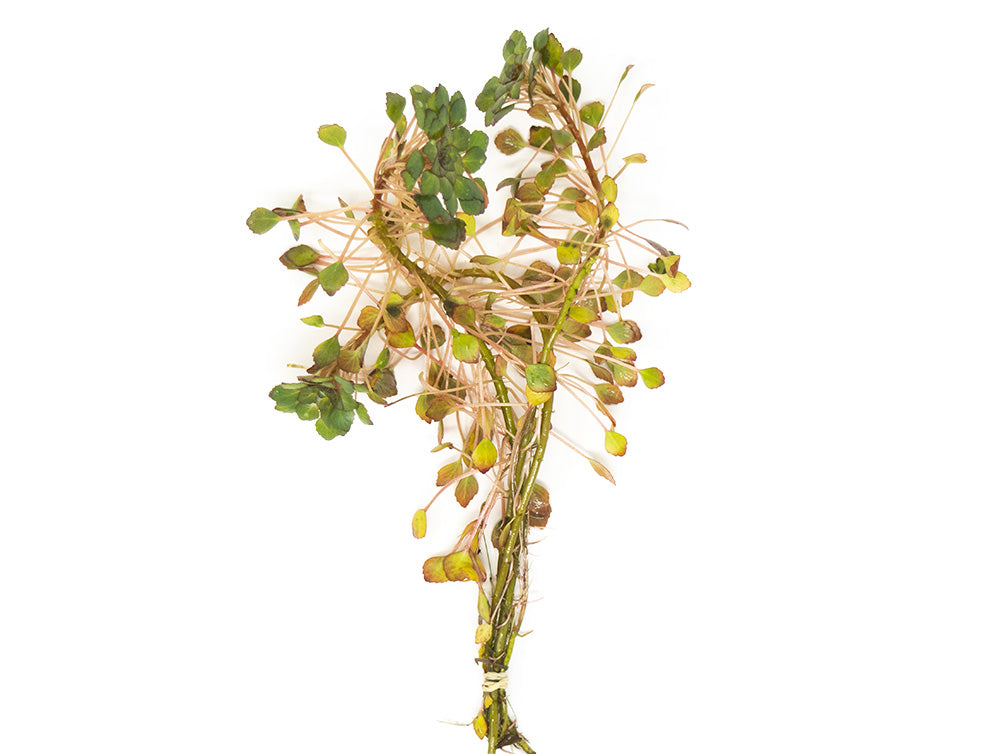 Mosaic Ludwigia (Ludwigia sedioides), bunch
Details
Mosaic Ludwigia will be a unique addition to your pond or aquarium that boasts large flower like leaves that float on the surface!
Mosaic Ludwigia (Ludwigia inclinata) is one of the more unique plants in the aquairum hobby! This plant forms its leaves into a mosaic tile medallion shape that floats on top of the surface of the water. The leaves are each in the shape of a diamond that vary from dark to light green with red edges. The stem needs to be planted in the substrate but the leaves will float on the surface making it a unique addition to your pond or aquarium.
It can can be a little touchy and does best in very stable water conditions. It also thrives best in low to no flow set ups. Be sure to handle Mosaic Ludwigia with care as it can be fragile when being handled. 

Mosaic Ludwigia requires high lighting and will benefit from from CO2 supplementation and micronutrients such as iron in particular. 
It will bloom if lighting simulates the seasonal changes. The blooms will be yellow and resemble buttercups. When lighting is set this way the leaves will fold up at night and unfurl fully in light hours. 
Like most plants, Mosaic Ludwigia will benefit from supplementation such as Seachem Flourish, Flourish Excel, Flourish Nitrogen, Flourish Iron, and other plant supplements.
No aquarium plant distributor/nursery/wholesaler/retailer can or will guarantee their plants to be 100% snail free. We can not guarantee our plants will be snail free. 
What We Like About This Plant:
One-of-a-kind foliage that floats on the surface of the water
Boasts a brilliant mosaic leaf pattern with green and red colors 

Easy Care Requirements
Provides lots of shade for shade loving fish and inverts

Care Guidelines:
Temperature: 64° - 86° F (18° - 30° C)
pH: 6.5 – 7.0
Lighting: Higher lighting will help maintain red coloration.
Potential Height: 10 - 23 inches (25 - 58 cm).
Origin: Cultivated in nurseries, but indigenous to South America
Aquarium Placement: Middle to Background, but leaves will all float to the surface
CO2: Not necessary, but plant will grow faster
Care: Easy
Growth Rate: Moderate
All Aquatic Arts brand plants and animals come with a 100% live arrival guarantee, plus free email support!