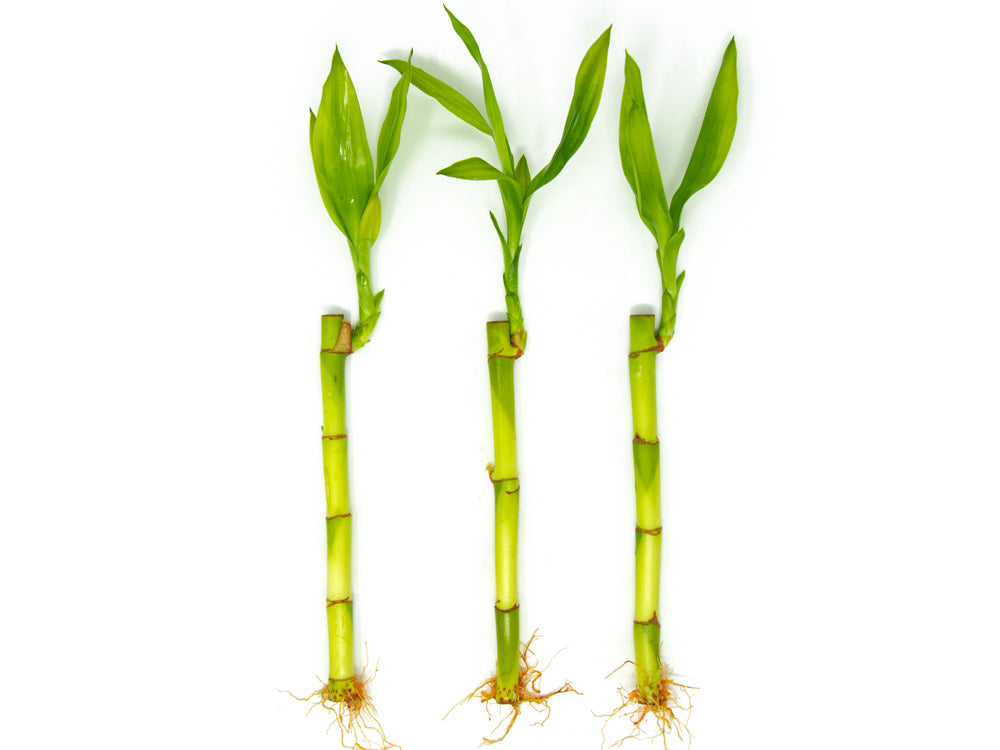 Lucky Bamboo Plant (Dracaena sanderiana), Straight and Curly Stalk
Details
While not a true aquatic plant, the Lucky Bamboo Plant is extraordinarily popular and can often be applied to aquarium, terrarium, and paludarium setups!
The Lucky Bamboo Plant (Dracaena sanderiana) is an extremely popular houseplant and candidate for some aquariums, terrariums, and paluadariums. It is not actually closely related to bamboo grass, although its common name comes from its resemblance to bamboo grass.
The Lucky Bamboo Plant is not a truly aquatic plant, although it can be grown in shallow water in lieu of soil. It should be positioned upright with its leaves clearly out of the water. While some aquarists claim that Lucky Bamboo can be grown fully submerged, there is also ample anecdotal evidence that this plant's leaves can release toxins into the water. This might not be a problem in large tank setups with excellent filtration, but it can be disastrous in smaller setups. We do not recommend growing this plant fully submerged. It should also be noted that the leaves of this plant can be toxic when eaten, so care MUST be exercised in setups where unknowing children, dogs, and cats (or other mammals) might have access to this plant.
Many aquarists keep Lucky Bamboo positioned upright in their power/hang-on-the-back filter units. Some betta keepers even keep this plant in their betta bowls/enclosures/vases. Lucky Bamboo is a very undemanding, slow-growing plant and it can often be very aesthetically pleasing under the correct conditions. It does not require filtered, flowing water, but its water should be changed 1-2 times per week in such conditions. It is also reportedly intolerant of extended periods of exposure to chlorine and fluoride.
While it is not perfect for every setup, Lucky Bamboo is clearly a favorite in the aquarium world, and under the correct conditions, it can be a very attractive and long-lived plant.
(No aquarium plant distributor/nursery/wholesaler/retailer, can or will guarantee their plants to be 100% snail free, we can not guarantee our plants will be snail free)
What We Like About This Plant:
Extremely hardy
Useful in a variety of setups, including as a houseplant in its own right
Easy to maintain
Requires low light and very little maintenance
Care Guidelines:
Temperature: 65° - 80° F (18.3° - 26.7° C)
pH: 6.5 - 7.5
Lighting: Moderate
Origin: Indigenous to West Africa, cultivated in US nurseries
Aquarium placement: Bottom part in water, leaves out of water
Care: Easy
All Aquatic Arts brand plants and animals come with a 100% live arrival guarantee, plus free email support!