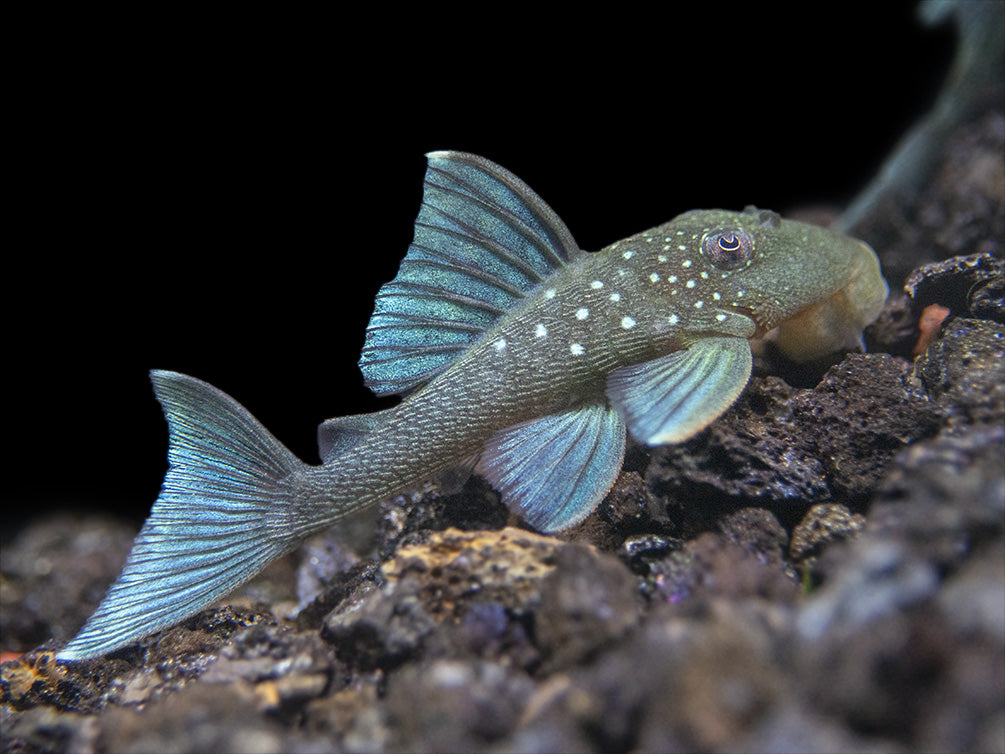 L128 Blue Phantom Pleco (Hemiancistrus sp. L128)
Details
* For the safety of our animals, we now ship live fish exclusively via UPS Next Day Air.  If your order contains this item, you will only see UPS Next Day Air as a shipping option during checkout *
The L128 Blue Phantom Pleco is a highly sought-after species due to its beautiful blue coloration. 
The L128 Blue Phantom Pleco (Hemiancistrus sp. L128) is a classic suckermouth catfish species that is native to the Rio Orinoco in Colombia and Venezuela. It is a popular pleco species for any aquarium due to the striking striking blue color with white dots. It inhabits fast flowing, oxygen rich waterways in the wild, so a bit of extra flow in the home aquarium is appreciated, but not required. This pleco can be housed with a wide array of tankmates including community fish, as well as semi-aggressive cichlids.
The L128 Blue Phantom Pleco will be a bit timid at first, but once settled in it will regularly come out during the daytime. While it is omnivorous and an excellent algae eater, the Blue Phantom Pleco appreciates a varied diet. That being said, frozen foods such as bloodworms and mysis shrimp should be fed along with your typical algae wafer or pellet. This pleco also grows to a very manageable size, so a large aquarium is not required.
What We Like About This Fish:
A unique and hardy addition to any aquarium.  

Unique appearance as well as plenty of personality.

Exceptional markings and coloration.

Will accept a wide variety of food.
RECOMMENDED TANK PARAMETERS: 
Temperature

:  77° - 86° F (25° - 30° C)

pH

:  6.0 - 7.0 (somewhat flexible as long as sudden changes are avoided)

KH

:  0 - 30 dKH

Minimum tank size

:  40+ gallons for a full grown adult
CARE GUIDELINES:
Diet

:  Omnivorous. Requires meaty foods and vegetable matter.

Social behavior

:  Generally solitary and somewhat territoral with other nocturnal bottom-dwellers

Origin

:  Rio Orinoco, Venezuela & Colombia

Average adult size

:  6.0 - 7.0  inches (15.2 - 17.8 cm)

Average purchase size

:  Juvenile: 1.5 - 2.0 inches (3.8 - 5.1 cm),   Sub Adult: 3.0 - 5.0 inches (10 - 13 cm)
All Aquatic Arts brand plants and animals come with a 100% live arrival guarantee, plus free email support!