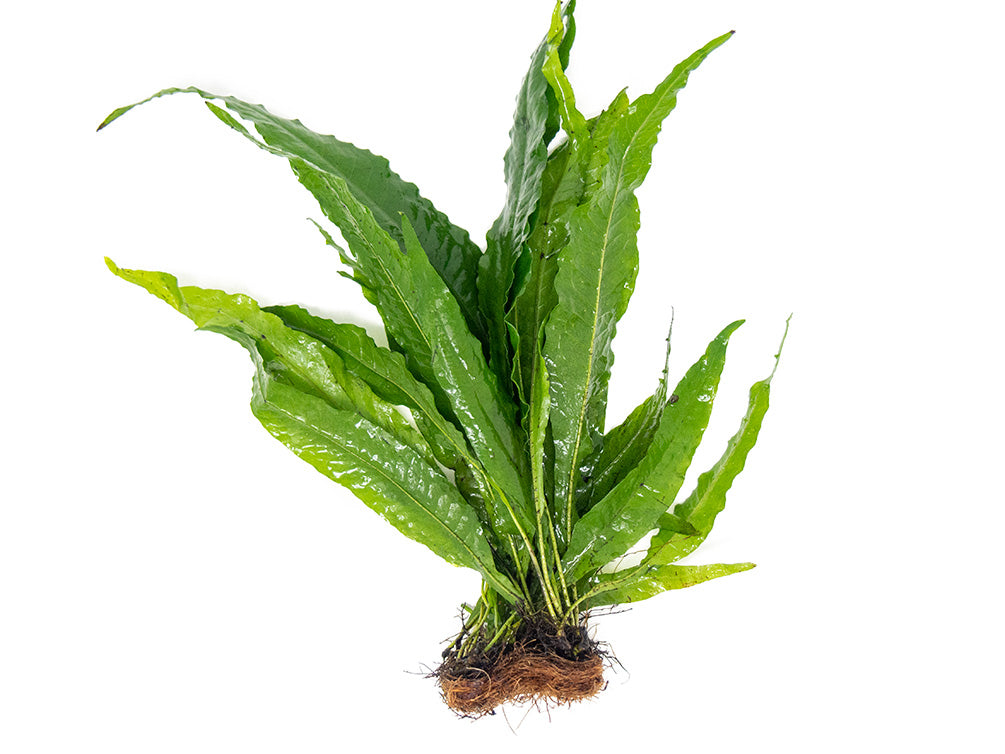 Java Fern Mat (Microsorum pteropus)
Details
This is a fast-growing and low-maintenance plant that can thrive in almost any aquarium.
Java Fern is a very popular plant in the hobby due to its impressive size, density, and its minimal care requirements.  Java Fern can thrive even in poorly lit aquariums, and in the right conditions it is a very aggressive grower, meaning it provides excellent waste removal from the water column.  This plant is excellent for aquariums that house fish, snails, and dwarf shrimp, as it provides biofilm, hiding places, and security for all aquarium inhabitants.
Full mats of this plant ship as a 4 x 2.5 inch mats with 20 to 30 leaves.  We also offer a half-size mat that measures 2.5 x 2 inches. The Java Fern is attached a mat of coco fiber substrate that can be discarded or planted under the substrate.  The mat can also be broken into smaller pieces to spread the plant to different locations or amongst multiple aquariums.  The Java Fern mat in the picture is one that is planted in one of our personal aquariums, and is the same size we send to customers.  All of our plants are bright and healthy because they are kept in a water in a plant-dedicated tank rather than plastic packaging, which means your plant will arrive in top condition.
No aquarium plant distributor/nursery/wholesaler/retailer can or will guarantee their plants to be 100% snail free. We cannot guarantee our plants will be snail free.
All Aquatic Arts brand plants and animals come with a 100% live arrival guarantee, plus free email support!