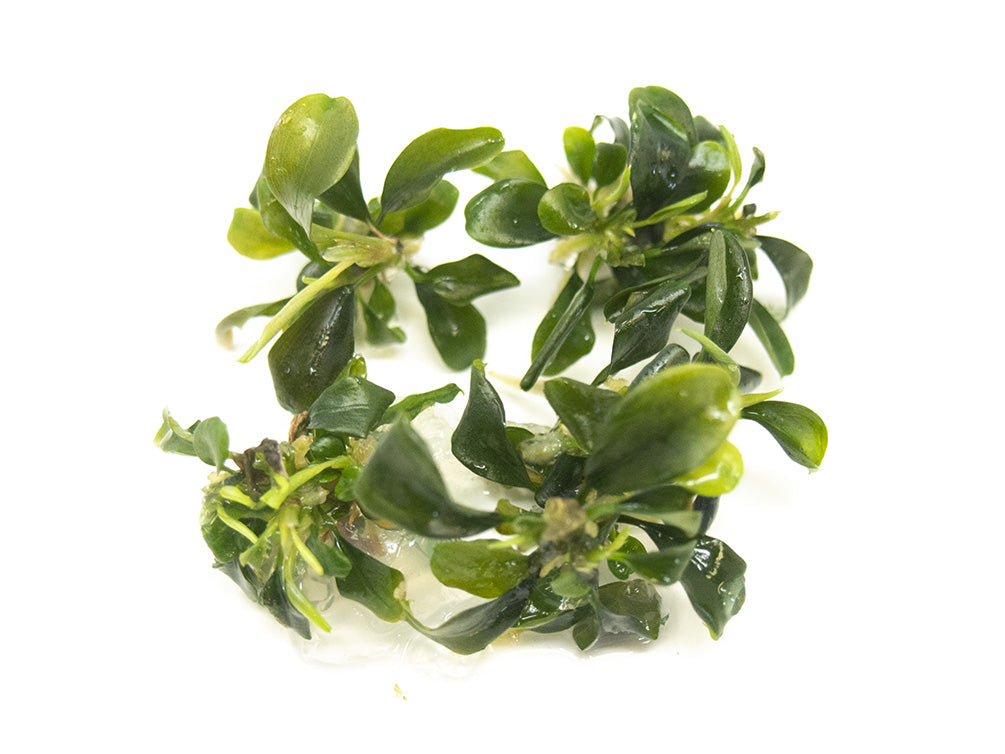 Green Buce Plant (Bucephalandra sp.) Tissue Culture
Details
We are proud to offer this buce plant in a tissue culture. Buce sp. green is a beautiful green variety that is perfect for the nano aquarium!
Green Buce Plant (Bucephalandra sp. "Green") is a variant of the extremely popular Bucephalandra group. This particular Buce plant is known for its ruffled, bright green leaves. It is a very hardy plant that can be grown emersed or submerged in the aquarium, terrarium, and paludarium.  It requires only low to moderate lighting and can thrive in a variety of water parameters. With proper care, Green Buce Plant will grow at a slow to moderate rate. The care of Buce plants is similar to Anubias and Cryptocoryne species. Also, like Anubias, Buce plants are rhizome plants that attach to and grow on hard surfaces. They attach particularly well to rocks, but can also grow very well on driftwood and other surfaces. If planted on the substrate, Buce plants should be only partially embedded in the substrate with the rhizome exposed. If the rhizome is buried, it is prone to rot.
In addition to its attractive appearance, Green Buce Plant provides a valuable refuge for aquarium animals, especially dwarf shrimp, nano fish, and fry.  With proper care, Green Buce Plant can easily flourish and grow to become a major centerpiece of the planted aquarium!
Like most plants, Green Buce Plant will benefit from supplementation such as Seachem Flourish, Flourish Excel, Nitrogen and other plant supplements.  However, supplementation is not required for this plant to grow and stay healthy. Buce plants generally show their most intense coloration and optimal growth when submerged with high lighting and stable, consistent fertilization. Drastic changes in fertilization can result in gradual leaf loss, although the plant rhizome will typically recover in time.
This listing is for the tissue culture form of Green Wavy Buce Plant. Tissue cultures are superior to traditional forms of aquarium plants in many ways. They are produced in a completely sterile environment which eliminates the possibility of them carrying pest snails or algae spores. They have a shelf life (before introduction to the aquarium) of several months if properly maintained and they are housed in a nutrient gel until introduced to the aquarium. To introduce a tissue culture plant to the aquarium, simply rinse off as much nutrient gel as possible, then plant as usual. The nutrient gel will not harm your aquarium. 
Packaging may vary. Tissue Culture plants may arrive in bag or cup form. 
What We Like About This Plant:
Tissue cultures contain no unwanted pest animals or algae
Exceptional coloration
Thrives in low-tech and high-tech setups
Can be attached to almost any aquarium décor
Perfect for shrimp and nano tanks
Care Guidelines:
Temperature: 71.6° - 82.4° F (22° - 28° C)
pH: 5.0 - 8.0, although 6.0 - 7.5 is more ideal.
Lighting: Low to High
Origin: Lab-grown tissue culture, but indigenous to Borneo, Indonesia
Aquarium placement: Middle and foreground. Rhizome should not be completely buried.
Care: Easy to Moderate