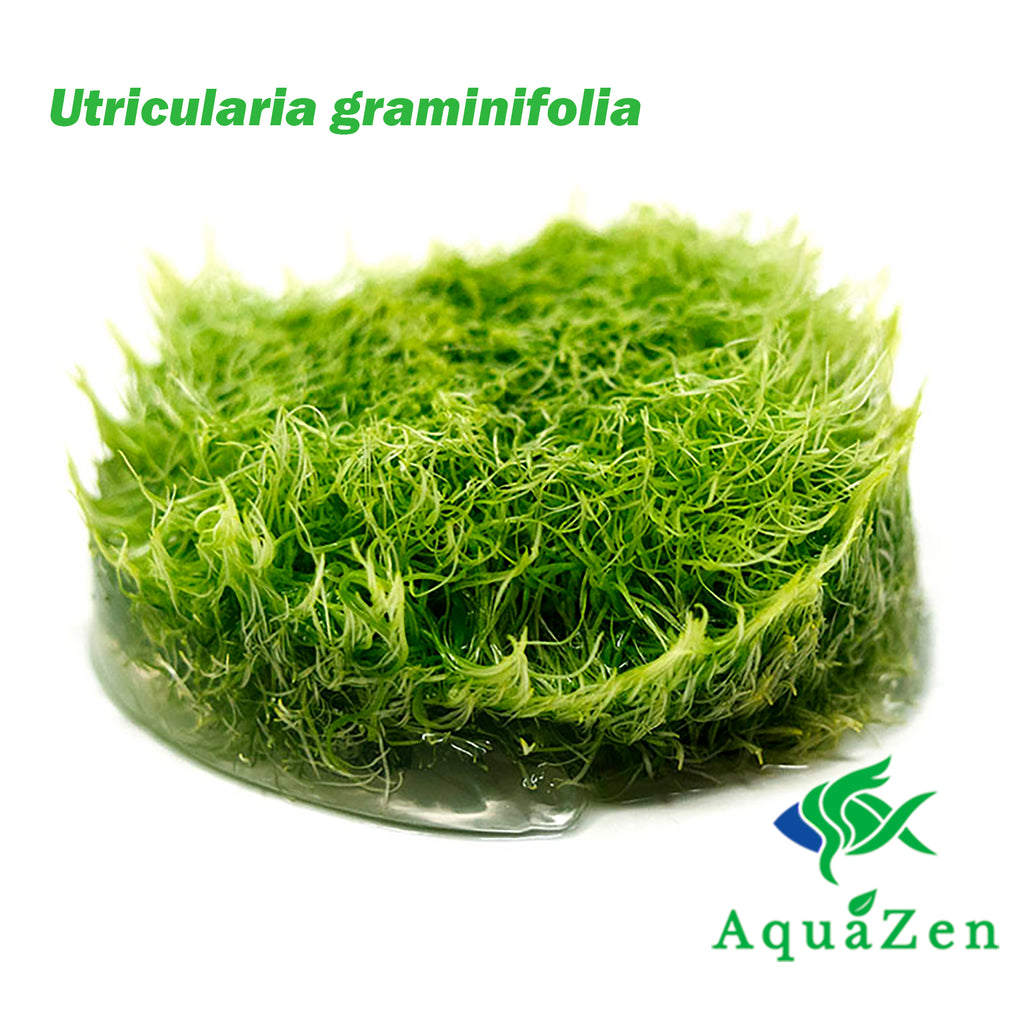 Grass Leaved Bladderwort (Utricularia graminifolia) Tissue Culture
Details
Grass Leaved Bladderwort (Utricularia graminifolia) is a fascinating carnivorous plant that is excellent for carpeting the aquarium!
Grass Leaved Bladderwort (Utricularia graminifolia) is a somewhat newly-introduced, popular foreground plant in the freshwater aquarium. Its leaves resemble the leaves of grass, so it is most often used as a carpeting plant. 
Grass Leaved Bladderwort is very unique among many aquatic plants because it is "carnivorous" and supplements its photosynthesis by using the vesicles on its leaves to trap and consume tiny crustaceans. Due to this fact, it is not recommended for tanks used for breeding dwarf shrimp. However, fish fry are generally too large to be affected by this plant. 
While not necessarily an expert-level plant, Grass Leaved Bladderwort has a few important care requirements. It requires high lighting, fertile substrate, and nutrient-rich water. While not absolutely necessary, CO2 supplementation is beneficial and will contribute to much faster growth and stability. This plant will regress rapidly if it does not have excellent water conditions. It will propagate more quickly and maintain root health if it is pruned regularly.
Like most plants, Grass Leaved Bladderwort will benefit from supplementation such as Seachem Flourish, Flourish Excel, Nitrogen and other plant supplements.  
This listing is for the tissue culture form of Grass Leaved Bladderwort. Tissue cultures are superior to traditional forms of aquarium plants in many ways. They are produced in a completely sterile environment which eliminates the possibility of them carrying pest snails or algae spores. They have a shelf life (before introduction to the aquarium) of several months if properly maintained and they are housed in a nutrient gel until introduced to the aquarium. To introduce a tissue culture plant to the aquarium, simply rinse off as much nutrient gel as possible, then plant as usual. The nutrient gel will not harm your aquarium.  
Packaging may vary. Tissue Culture plants may arrive in bag or cup form. 
What We Like About This Plant:
Tissue cultures contain no unwanted pest animals or algae
Fast growing when kept in nutrient-rich water
Attractive grass-like leaves
Unique "carnivorous" plant
Quickly covers large portions of the aquascape
Care Guidelines:
Temperature: 64° - 77° F (18° - 25° C)
pH: 5.0 - 7.0, 6.5 is ideal
Lighting: High
Origin: Lab-grown tissue culture, but indigenous to China and Southeast Asia
Aquarium placement: Foreground
Care: Moderate
All Aquatic Arts brand plants and animals come with a 100% live arrival guarantee, plus free email support!