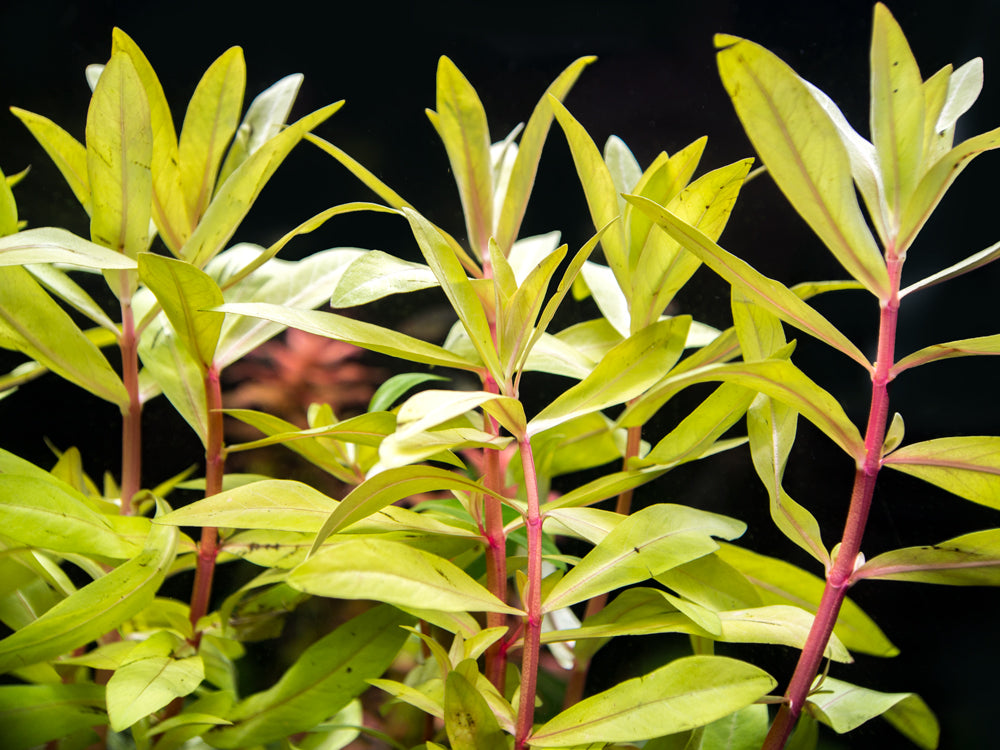 Golden Nesaea (Nesaea pedicellata "Golden"), Bunch w/Lead
Details
Add some unique, golden color to your aquarium with this rare, exceptional stem plant!
Golden Nesaea (Nesaea pedicellata "Golden") is a very unique stem plant that is relatively new to the US aquarium hobby. Native to West Africa, it is very distinguishable by its unusual golden-green leaves and red to pink stems. It is a moderate light plant that can thrive in low-tech setups provided that it has nutrient-rich water and substrate. 
Golden Nesaea will grow to a height appropriate for the middle and background of the aquarium. It can achieve a vertical height over 12 inches. It can be placed as a bunch to create a bushy, golden area, or individual stems can be planted throughout the aquarium to add golden highlights throughout the tank
Golden Nesaea does not require CO2 supplementation or overly high lighting, but like most stem plants, it will benefit and grow more quickly with CO2.
Like most plants, Golden Nesaea will benefit from supplementation such as Seachem Flourish, Flourish Excel, nitrogen, and other plant supplements. However, some suspect that excessive potassium is detrimental to this plant.
No aquarium plant distributor/nursery/wholesaler/retailer can or will guarantee their plants to be 100% snail free. We can not guarantee our plants will be snail free.
What We Like About This Plant:
Unmatched golden coloration that will add variety to any planted aquarium
Can thrive in low-tech setups with moderate to high lighting
Provides a great deal of cover for animal fry
Reasonably undemanding and durable in a well-lit, nutrient-rich aquarium
Care Guidelines:
Temperature: 70° - 82° F (21° - 28° C)
pH: 6.5 - 7.5
Lighting: Moderate to high
Origin: Indigenous to West Africa, cultivated in US nurseries
Aquarium placement: Middle or Background
Care: Moderate
All Aquatic Arts brand plants and animals come with a 100% live arrival guarantee, plus free email support!