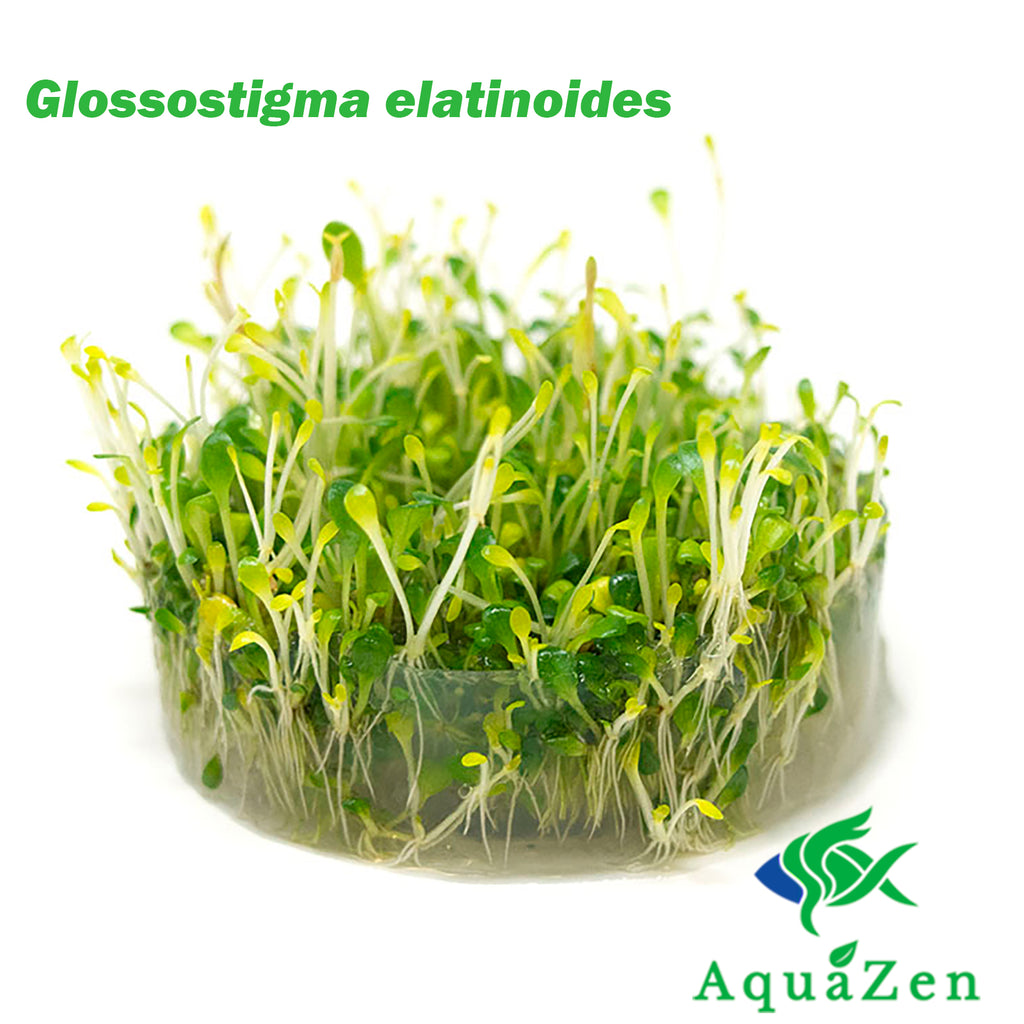 Glosso (Glossostigma elatinoides) Tissue Culture
Details
Glosso is a rewarding and beautiful foreground plant that is perfect for the dedicated aquarist!
Glosso (Glossostigma elatinoides) is a dense and vibrant green carpeting plant that looks particularly excellent in the foregound of any planted aquarium. This charming little plant features tiny, oval-shaped leaves. It is a fast-growing plant under optimal conditions, and it will carpet all high-light areas of the aquarium foreground. It is perfect for use as protective refuge for fry in a high-light aquarium where fish or invertebrates are breeding.
Glosso requires very high lighting in order to thrive and grow correctly. With proper lighting, its stems will only grow to roughly one inch in height and the plant will grow horizontally across the substrate. With inadequate lighting, its stems will grow horizontally and have a generally disheveled appearance. It must be planted deeply in nutrient (especially iron) rich substrate and it also should be provided with CO2 supplementation. This plant is considered more difficult to grow than many other plants, so it may not be ideal for beginning live plant enthusiasts.
This listing is for the tissue culture form of Glosso. Tissue cultures are superior to traditional forms of aquarium plants in many ways. They are produced in a completely sterile environment which eliminates the possibility of them carrying pest snails or algae spores. They have a shelf life (before introduction to the aquarium) of several months if properly maintained and they are housed in a nutrient gel until introduced to the aquarium. To introduce a tissue culture plant to the aquarium, simply rinse off as much nutrient gel as possible, then plant as usual. The nutrient gel will not harm your aquarium.  
 Packaging may vary. Tissue Culture plants may arrive in bag or cup form. 
What We Like About This Plant:
Tissue cultures contain no unwanted pest animals or algae
Superb carpeting plant
Bright green coloration
Challenging high-tech, high-light plant

Excellent refuge for fry

Care Guidelines:
Temperature: 72 – 78° F (22 - 26° C)
pH: 5.0 - 7.0
Lighting: Very High
Origin: Lab-grown tissue culture, but indigenous to New Zealand, Australia, and Tasmania
Aquarium Placement: Foreground 
Care: High
All Aquatic Arts brand plants and animals come with a 100% live arrival guarantee, plus free email support!