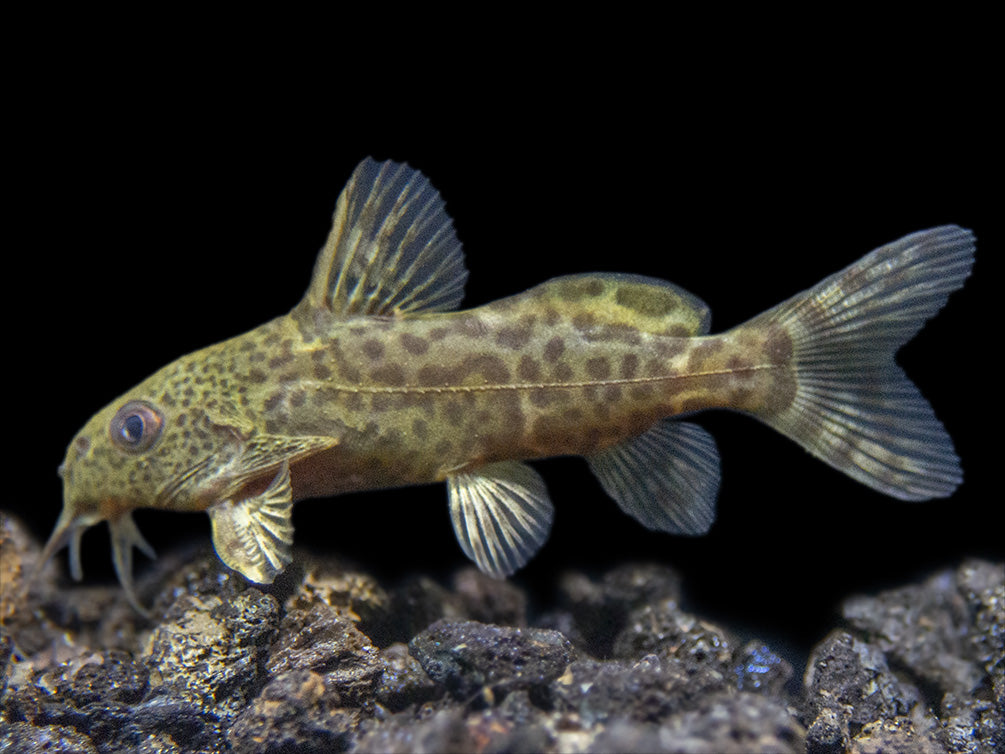 False Upside-Down Catfish (Synodontis nigrita)
Details
The Nigrita Catfish is a unique bottom dweller addition to most aquariums!
The False Upside-Down Catfish, is an uncommon, medium-sized catfish species that boasts a mottled pattern. This catfish is also known for its tendency to sometimes swim upside-down as well as its ability to squeak or croak when removed from the water. It is often very active, especially for a catfish, and it is compatible with a wide variety of fish.
The False Upside-Down Catfish is primarily nocturnal, but will often become active during daytime hours once established in an aquarium with plenty of driftwood, rockwork, and other hiding places. The False Upside-Down Catfish is generally peaceful and is compatible with most fish that are too large to be considered prey. It feeds on invertebrates in the wild, so it should not be kept with ornamental invertebrates in the aquarium. It will not bother plants. It is a small predator that produces a fair amount of waste and it is sensitive to declining water quality, so regular water changes and maintenance are a must. While it can do well when kept singly, it is much better kept in at least small groups of its own kind since it is gregarious.
The False Upside-Down Catfish is an unfussy eater that will accept most meaty live, frozen, and dry foods. It should also have regular vegetable matter. A varied diet is essential for optimal health and coloration.   
What We Like About This Fish:
A peaceful and hardy scavenger
Attains a very manageable adult size

Will not bother ornamental plants

Unique appearance as well as plenty of personality.
Compatible with many peaceful and aggressive fish species
RECOMMENDED TANK PARAMETERS:
Temperature

:  70° - 82° F (21° - 28° C)

pH

:  6.0 - 7.8

KH

:  3 - 20 dKH

Minimum tank size

: 55+ gallons is necessary for a small group of adults
CARE GUIDELINES: 
Diet

:  Omnivorous. Will accept most live, frozen, and meaty foods of appropriate size. Some vegetable matter is also necessary.

Social behavior

:  Somewhat social and more active in groups.
Origin:  Tank-bred, but indigenous throughout much of Africa
Average adult size:  7 inches (17.5 cm)

Average purchase size

: 2 inches (5 cm)
All Aquatic Arts brand plants and animals come with a 100% live arrival guarantee, plus free email support!