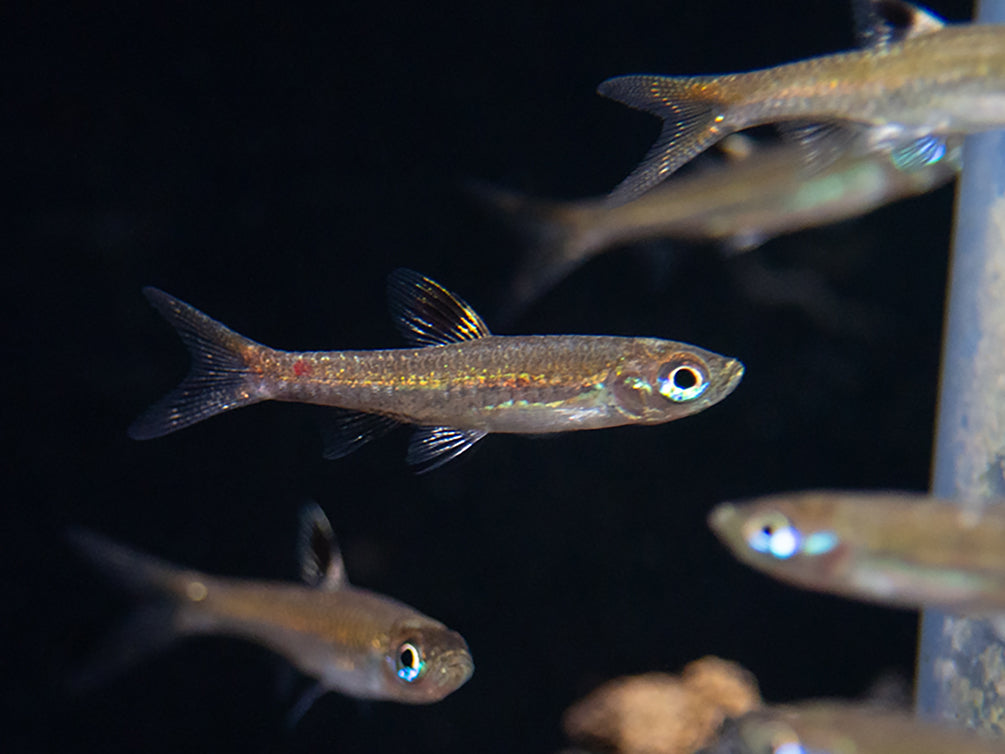 Brevibora exilis "New" AKA Eyespot Rasbora (Brevibora exilis)
Details
* For the safety of our animals, we now ship live fish exclusively via UPS Next Day Air.  If your order contains this item, you will only see UPS Next Day Air as a shipping option during checkout * 
This uncommon rasbora is a very outgoing, active species that looks great in a planted aquarium with dark substrate! Newly Discovered species!
Introducing Brevibora exilis, a stunning and diminutive fish from the genus Brevibora, native to Borneo (Kalimantan). This particular species stands out among Eyespot Rasboras due to its distinct features: a blue luminescent stripe extending from the eye's glowspot to the operculum and a notably slender body. The base of the tail fins is adorned with a lovely orange hue. These fish are small and delicate, typically reaching a maximum length of 2.5 cm (excluding the tail fin).
In 2010, the Brevibora genus was differentiated from Rasbora. Although four species have been scientifically described, errors in original descriptions may prompt name changes in the future. However, such alterations are not anticipated for B. exilis.
Eyespot Rasboras are incredibly undemanding creatures, making them an excellent choice for beginners to care for successfully. It's essential to note that these fish truly showcase their subtle yet beautiful colors when kept in a school (a minimum of 10 fish is recommended, more if possible). Being in a larger group not only enhances their appearance but also fosters a sense of security, allowing them to display their finest hues.The Brevibora exilis typically occupies the top and middle level of the water column, although it can often be seen swimming and feeding in the middle and bottom levels as well. It is safe with other peaceful, small fish. This small rasbora can be housed with adult dwarf shrimp, although it might prey on shrimp fry
What We Like About This Fish:
Interesting schooling behavior, especially in very large schools

Peaceful disposition with fish and peaceful invertebrates including dwarf shrimp

Very active and noticeable fish in any aquarium

Ideal for nano and planted aquariums
RECOMMENDED TANK PARAMETERS:
Temperature: 68

°

- 77° F (20° - 25° C)

pH: 4.0 - 7.5, acidic water is preferred

KH: 3 - 12 dKH

Minimum Tank Size: 8 gallons
CARE INFORMATION:
Diet: Micropredator. Will easily accept high quality dry and frozen foods of appropriate size.  Requires a varied diet for optimal health and coloration.

Social Behavior: Peaceful, schooling/shoaling.

Origin: Indonesia

Average Adult Size: 1.2 - 1.4 inches (3 - 3.5 cm)

Average Purchase Size: .5-1 inch (1.3 - 2.5 cm)
All Aquatic Arts brand plants and animals come with a 100% live arrival guarantee, plus free email support!