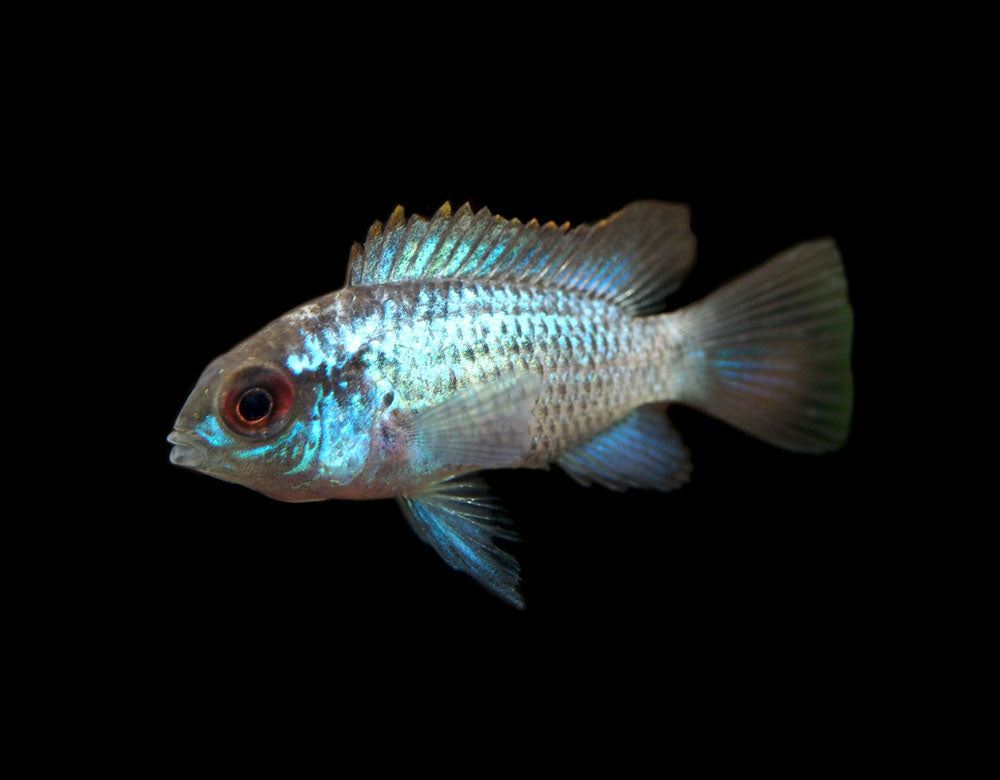 Electric Blue Acara Cichlid (Andinoacara pulcher hybrid), Tank-Bred!
Details
* For the safety of our animals, we now ship live fish exclusively via UPS Next Day Air.  If your order contains this item, you will only see UPS Next Day Air as a shipping option during checkout *
This relatively peaceful mid-sized cichlid displays intense blue coloration across most of its body, an orange margin on its dorsal fin, and is truly a "centerpiece" fish!
The Electric Blue Acara Cichlid (Andinoacara pulcher hybrid) is an extremely colorful hybrid of the Blue Acara Cichlid. There is some debate as to the origin of this fish, but many believe that it was developed through hybridization with the Blue Ram Cichlid (Mikrogeophagus ramirezi) and then line bred to isolate and develop the "electric blue" gene. Whatever its origin, this very beautiful fish will breed with its own kind and will produce more offspring with the same coloration.
The Electric Blue Acara Cichlid will thrive in an aquarium with a sandy substrate and plenty of refuge such as clay pots, driftwood, and rock formations. It typically will not eat ornamental plants, but it does like to do a fair amount of digging, so plants that attach to driftwood and rockwork are recommended. This cichlid is generally compatible with other peaceful fish too large to be considered prey. Territoriality is typically at its peak during spawning. Dwarf shrimp and other small, delicate invertebrates should not be kept with the Electric Blue Acara Cichlid, but more durable, larger invertebrates such as snails could possibly make good tankmates in a large enough aquarium. If spawning is desired, tankmates of other species should be kept to a minimum or avoided altogether.
Feeding is simple for the unfussy Electric Blue Acara Cichlid. High-quality dry, frozen, and live meaty foods will all be readily accepted. Supplemental vegetable matter is also required. Quality and variety are the keys to a diet that will ensure that this fish maintains optimal health and coloration.
We are offering young specimens of this magnificent fish. They are already displaying superb coloration for their size.
What We Like About This Fish:
Beautiful electric blue across the entire body
Very hardy with plenty of personality
Easy to breed in the aquarium
Compatible with many other species in a spacious tank
Potential to be a "centerpiece" fish
RECOMMENDED TANK PARAMETERS:
Temperature:  73° - 86° F (23° - 30° C)
pH:  6.0 - 7.2
KH:  0 - 10 KH
Minimum tank size:  30+ gallons for a pair.
CARE GUIDELINES:
Diet:  Mostly carnivorous. A variety of high-quality dry, frozen, and live meaty foods is necessary for optimal health and coloration. Some vegetable matter is also beneficial.
Social behavior:  Congregates loosely in groups. Females can be territorial during spawning.
Origin:  Man-made hybrid of South American species
Average adult size:  Up to 5 inches (12.7 cm)
Average purchase size:  1+ inch (2.5 cm)
All Aquatic Arts brand plants and animals come with a 100% live arrival guarantee, plus free email support!