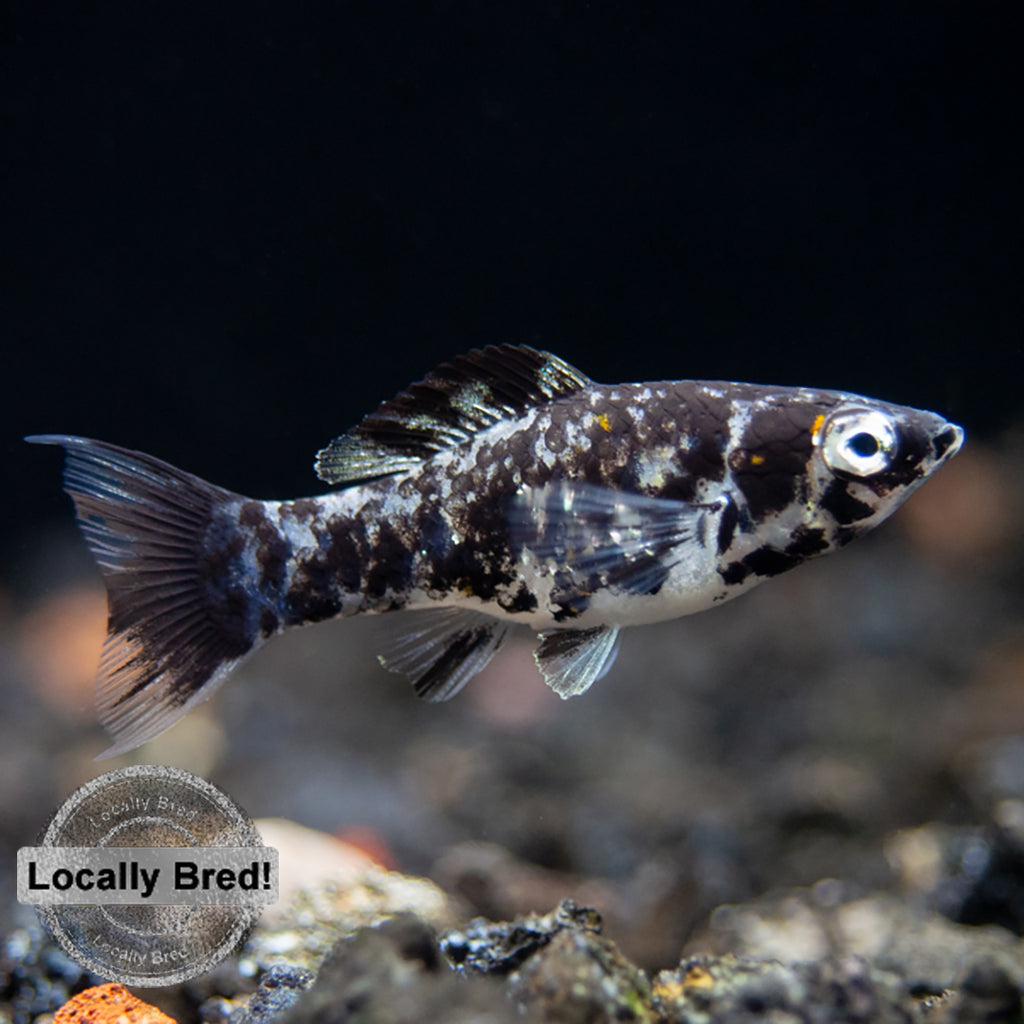 Dalmatian Molly (Poecilia latipinna), Locally-Bred
Details
* For the safety of our animals, we now ship live fish exclusively via UPS Next Day Air.  If your order contains this item, you will only see UPS Next Day Air as a shipping option during checkout *
The Dalmatian Molly is a true classic in the aquarium hobby. We are proud to offer locally-bred species of this beautiful fish!
The Dalmatian Molly (Poecilia latipinna) is one of the most celebrated and beautiful livebearers in the aquarium world, boasting a variety of stunning color forms.  This species has been bred extensively for decades and has been developed into nearly endless color varieties including black, green, dalmatian, golden, harlequin/calico, chocolate, albino, creamsicle, and many others.  While this fish originated from fresh, brackish, and saltwater habitats in southern North America, the tank-raised specimens available are almost exclusively raised and thrive in alkaline freshwater.  This fish could be considered a larger fish in the world of small community fish because it grows to an size of 4 to 5 inches as an adult.  Despite its large size, it has a generally peaceful yet outgoing disposition, and it makes a great addition to many mixed-species aquariums.

The Dalmatian Molly is compatible with most other peaceful aquarium species in a relatively spacious aquarium.  It is an omnivore, so it will potentially prey on smaller dwarf shrimp and their fry, but it is otherwise safe to keep with peaceful invertebrates as well.  This fish is not a picky eater and it will accept a variety of high quality dry foods, but these should be supplemented with a variety of frozen foods as well.  It will mostly occupy the middle and upper regions of the aquarium, and it does have the ability to jump out of the water, especially while in the early stages of acclimating to a new aquarium.  As a result, a secure lid is highly recommended to ensure that this fish does not jump out of the tank.

Plants are not absolutely necessary for the Dalmatian Molly, but they will certainly be appreciated.  All hardy stem plants, rooted plants, Marimo Moss Balls, and mosses are generally safe to keep with this fish as long as the Dalmatian Molly is well fed.  The Dalmatian Molly is an excellent fish for beginners as well as experts!
What We Like About This Fish:
Hardy and adaptable

Beautiful variety of colors

Excellent for medium and larger planted aquariums


Peaceful disposition
RECOMMENDED TANK PARAMETERS: 
Temperature

:  72° - 80° F (22° - 26.7° C)


pH

: 

7.0 - 8.5, though 7.5 or higher is ideal




KH

:  15 - 35 dKH

Minimum tank size

:  10 gallons for a single specimen, 30+ gallons for a group

CARE GUIDELINES:
Diet

:  High quality flake foods and frozen foods, especially those high in plant matter.


Social behavior

:  Shoaling, peaceful with most species.


Origin

:  Tank-bred, but indigenous to Southern North America (including Mexico)


Average adult size

:  5 inches (12.7 cm) for males, 4 inches (10.2 cm) for females


Average purchase size

:  1 - 2.5 inches (2.5 - 6.4 cm)

All Aquatic Arts brand plants and animals come with a 100% live arrival guarantee, plus free email support!