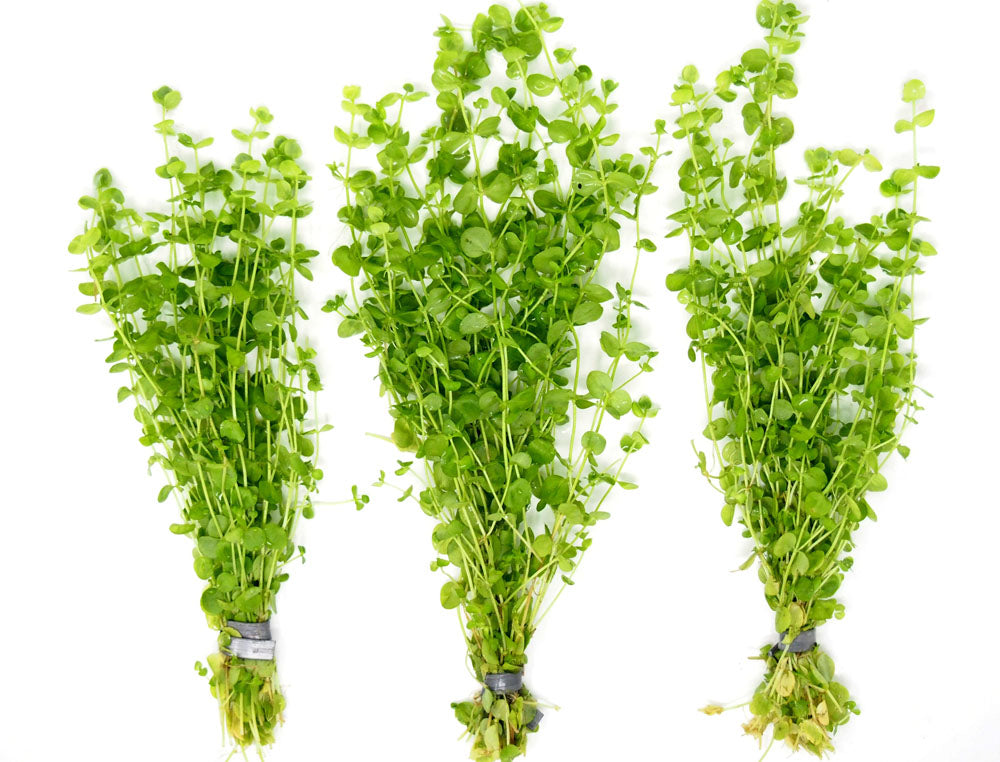 Giant Baby Tears (Micranthemum umbrosum)
Details
A small and vibrantly green plant that requires medium to high lighting.
Giant Baby Tears (Micranthemum umbrosum), is a charming stem plant that grows quickly into a dense bush.  It is particularly beautiful in appearance with its tiny, delicate, and round leaves that resemble shamrocks, as well as its bright green coloration.  This small stem plant is very versatile and is ideal for the foreground or background of any planted aquarium.  This plant is excellent for aquariums that house fish, snails, and dwarf shrimp, as it provides biofilm, hiding places, and security for all aquarium inhabitants.
This plant is easy to grow and can tolerate a wide range of water parameters.  We recommend using at least moderate-intensity lighting in order to encourage the leaves to reach their full color potential.  To propagate, just snip off a stem from the bush and replant it into your substrate.  All of our plants are bright and healthy because they are kept in a water in a plant-dedicated tank rather than plastic packaging, which means your plant will arrive in top condition.
For each order of this plant, we ship two bunches, each containing multiple stems that range from 4 to 6 inches.  They should not grow much taller than that, but should become more wide and dense depending on how you choose to propagate it.
NOTE: These are NOT dwarf baby tears, though this plant does belong to the same group of aquatic plants commonly known as "baby tears."
All Aquatic Arts brand plants and animals come with a 100% live arrival guarantee, plus free email support!
No aquarium plant distributor/nursery/wholesaler/retailer can or will guarantee their plants to be 100% snail free. We can not guarantee our plants will be snail free.