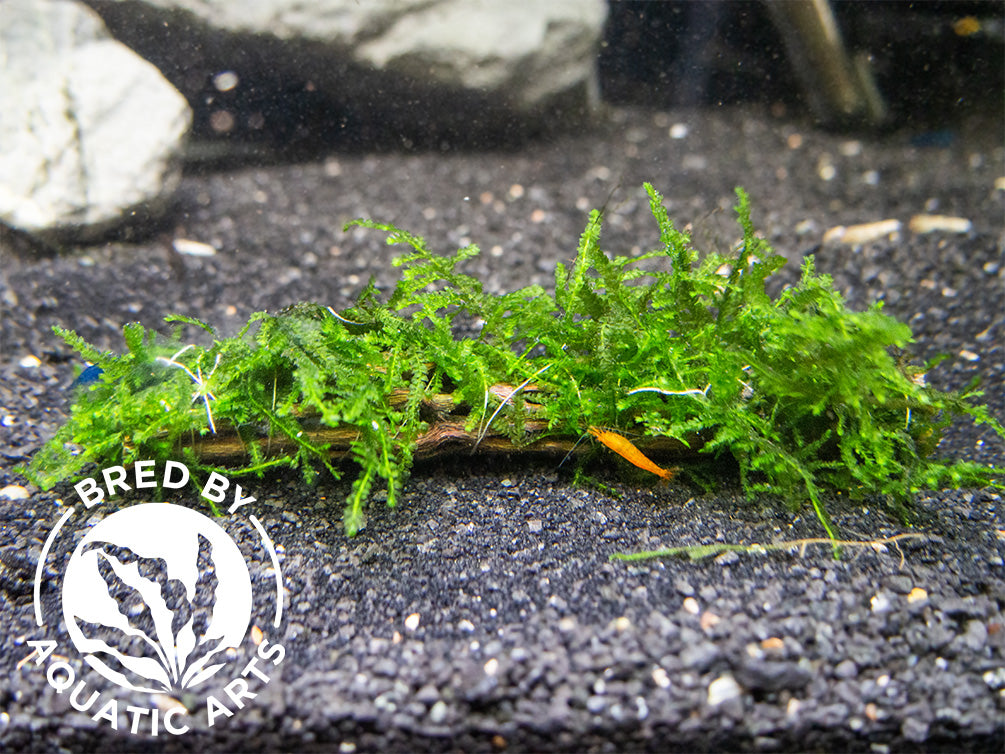 Assorted Moss on 5" Cholla Wood or Delonix Pod, Aquatic Arts Grown
Details
Aquatic Arts Grown Moss on Cholla wood or Delonix Pod is a premium option if you are looking for pest free, algae free, submerged moss. Our Moss has been cultivated and grown to be used in tanks that house or Bredby Shrimp and snails.  
This listing is for 1, 5" piece of cholla wood or 1, 5" piece of delonix pod with assorted moss attached and ready for your aquarium! Ranging from Java moss, to Christmas, Taiwan or Flame, our assorted moss on cholla wood is a vibrant green moss that is excellent for aquariums that house fish, snails, and dwarf shrimp. The cholla wood is also great as it provides biofilm, hiding places, and security for all aquarium inhabitants. Small fish fry and shrimplets love to hide in the cholla wood as well as find vital refuge in the plant cover. Our assorted moss on cholla wood requires very low-maintenance; it can be kept in any freshwater aquarium and does not need special supplementation or high-intensity lighting. Moss also removes pollutants from the water by reducing nitrates and providing some dissolved oxygen, which will greatly benefit any animals in the aquarium.
Cholla Wood is a fantastic and natural way to lower and buffer pH.  This is the only kind of driftwood used by Aquatic Arts for all of our low-pH tanks, including some of our dwarf shrimp tanks.  We use cholla wood in many of our low-pH tanks, as they produce ideal water conditions for acidic-loving animals.  The pieces of driftwood add a natural beauty to any aquarium in which they are placed, and dwarf shrimp particularly love to graze for biofilm on the surfaces of the wood.  
These pieces are 5 inches or more in length.  The wood has already been cleaned and cured, tied with moss and is ready for aquarium use with no preparation. Please note that we hand wrap these cholla wood pieces ourselves with all natural cotton string that will eventually and naturally decompose, leaving the moss attached to the wood.
Care Guidelines:
Temperature: 59° - 87° F (15° - 28° C)

pH: 5.5 - 8.5

Lighting: Low to moderate

Origin: Farmed in Asia, indigenous to Southeast Asia

Aquarium Placement: Any

Care: Easy
All Aquatic Arts brand plants and animals come with a 100% live arrival guarantee, plus free email support!