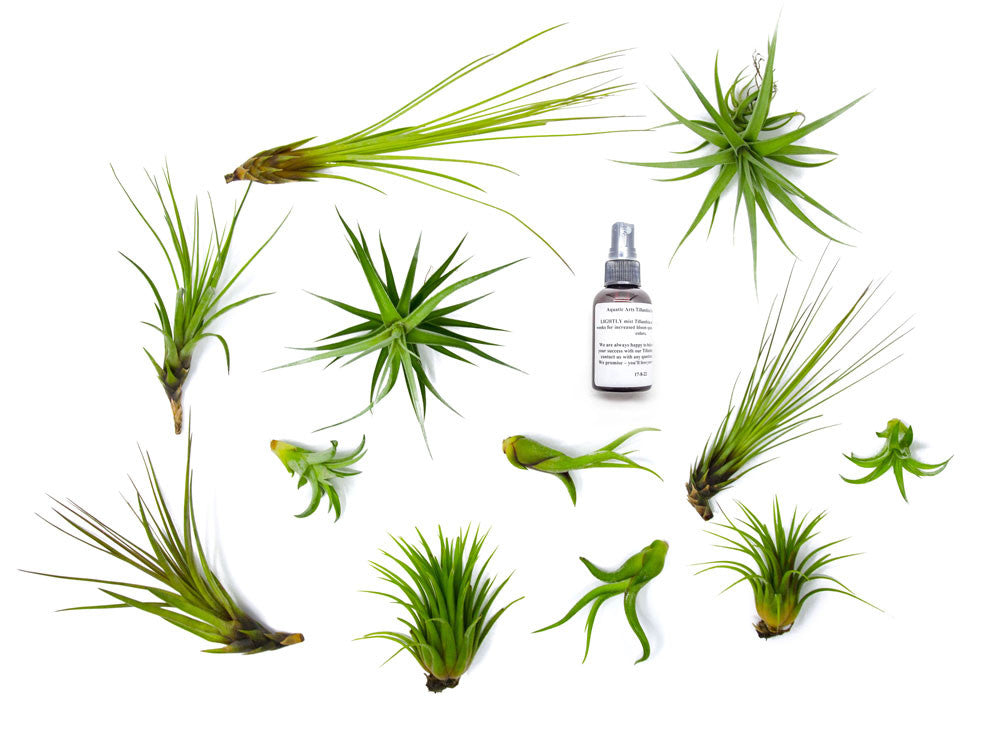 Air Plant Variety Pack - Bulk Assorted Species of Live Tillandsia with Fertilizer Bottle
Details
Update: We have moved all of our Air Plants to our houseplant website,

 plantsforpets.com
Large variety of sizes and species:  Each air plant will range from 2 to 8 inches in size and each is hand selected. We only send our best looking plants and make sure to include several fast blooming species such as ionantha in every pack. A detailed care guide and our Tillandsia Fertilizer is also included with every pack.
Eco friendly: Many Tillandsias are becoming endangered in the wild due to over collection. To protect these threatened resources, 100 percent of our air plants are greenhouse grown and never wild collected.
Easy care house plants: Tillandsia Air Plants are extremely low maintenance and easy to care for. They require only a moderate amount of light, no soil, and only need watering about once a week.
DIY home decor: These live tropical plants are perfect for do it yourself terrarium kits, holders, and hanging planters. They are ideal for indoor decor and make very unique housewarming gifts for both women and men. Your creativity and ideas are the only things that will limit what you can do with them.
Healthy live arrival guaranteed: Your air plants will arrive alive and healthy. Each order will come with a 100 percent live arrival guarantee, plus free email support directly from Aquatic Arts.
Add natural beauty to your home or office with air plants!
These indoor plants don't need soil to grow, so they can flourish in many different environments. Additionally, they require only a moderate amount of light and only need watering about once a week, making them the lowest-maintenance plants available!
What separates these unique plants from other plants are their leaves, which have adapted to absorb water and nutrients from the air. This allows air plants to thrive when they are suspended in the air or grown atop driftwood and rocks. Air plants are perfect for terrariums, cages, and glass containers with holes or gaps that allow for plenty of air flow. There are a myriad of other creative ways to display air plants; the possibilities are limited only by your imagination! Air plants look especially beautiful when set atop river stones, natural-colored gravel, or driftwood.
Air plants make excellent gifts for house-warming or other occasions. They are also work wonderfully as desktop decorations for your office or home desk.
We recommend keeping air plants in an area where they receive a moderate amount of light. Indirect sunlight and artificial home/office lighting are appropriate for these plants. It's generally safe to keep air plants in direct sunlight for a short period of time each day, but we recommend misting them with water every 2 hours or so to keep them from drying out. The optimal way to water air plants is to soak them in water for 2 hours once per week. If you find the leaves of your air plants are becoming soft or pale in color, this means the plant is too dry, and you should try misting or watering them more often.
Air plants come in a variety of shapes, sizes, and colors, though most species primarily feature green leaves. Many of our air plants also exhibit stunning pink blooms but the plants you receive may or may not already have blooms.