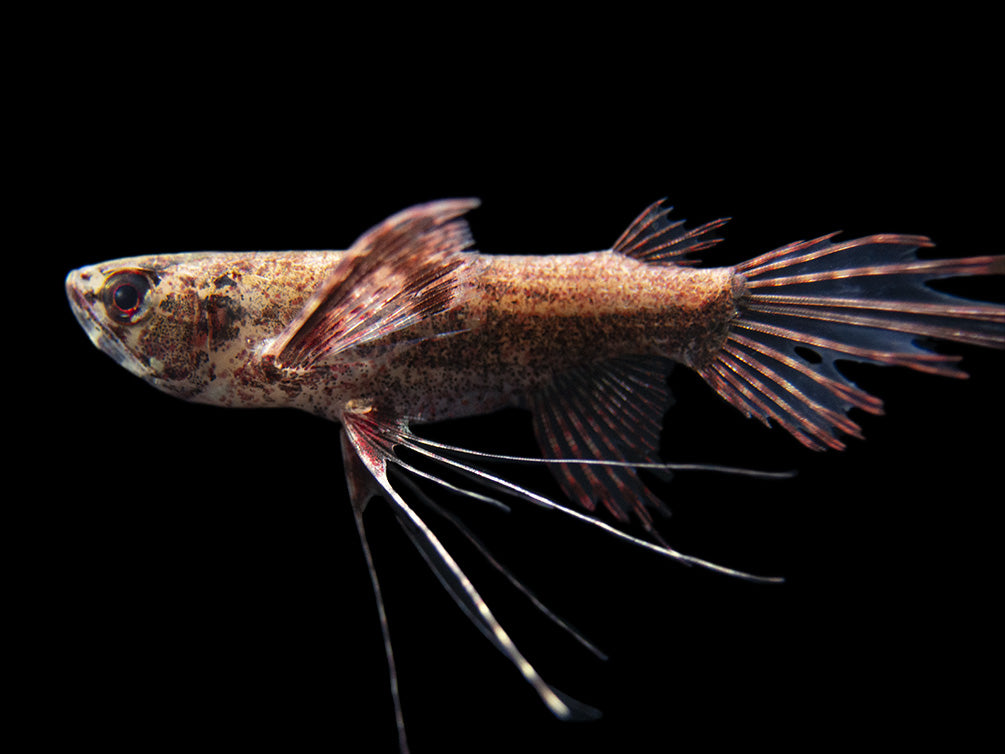 African Butterfly Fish (Pantodon buchholzi)
Details
* For the safety of our animals, we now ship live fish exclusively via UPS Next Day Air.  If your order contains this item, you will only see UPS Next Day Air as a shipping option during checkout *
The African Butterfly Fish is a unique and fascinating oddball fish that will be a talking point in any aquarium!
**This fish tends to jump, so a tight fitting lid is required!**
The African Butterfly Fish (Pantodon buchholzi) is a classic and easily identifiable oddball freshwater fish. It has beautiful finnage which is where it gets the name "Butterfly Fish". It inhabits slow-moving and still waters in creeks, lakes, and swamps. They tend to hangout in vegetation at the surface of the water in a unique way that looks like they are floating. They reach a very manageable size of 4.8 inches, making them a good choice for a wide array of aquarists! 
The African Butterfly Fish is a somewhat skittish species when getting settled into a new aquarium. It is a very peaceful fish, but it has a large mouth and will eat fish and invertebrates that are small enough to be considered prey. On the flip side, aggressive or "nippy" fish such as barbs should be avoided as their long fins can entice aggressive behavior. Adult specimens can sometimes be territorial with one another, but can easily be housed together without issue in a large enough tank with enough cover. While it is a reasonably hardy species, the African Butterfly Fish

 prefers slightly acidic, low flow water with plenty of vegetation to hide in. 
The African Butterfly Fish is an insectivore which can provide many interesting feedings. It requires a varied diet for optimal health, and it likely will need live and frozen meaty foods. In time, it may also accept dry foods.
What We Like About This Fish:
Very unique appearance

Peaceful with most fish too large to be considered prey
Ideal oddball fish

Will not eat plants
RECOMMENDED TANK PARAMETERS: 
Temperature

:  73° - 86° F (23° - 30° C)

pH

:  6.0 - 7.5

KH

:  5 - 15 dKH

Minimum tank size

:  30 gallons
CARE GUIDELINES:
Diet

:  Insectivore. Will also accept a variety of meaty live, frozen, and dry foods

Social behavior

:  Generally peaceful with species too large to be considered prey

Origin

: Nigeria, Republic of Congo, Cameroon, Chad

Average adult size

:  4.8 inches (412 cm)

Average purchase size

:  2 - 3 inches (5 - 7.5 cm)
All Aquatic Arts brand plants and animals come with a 100% live arrival guarantee, plus free email support!