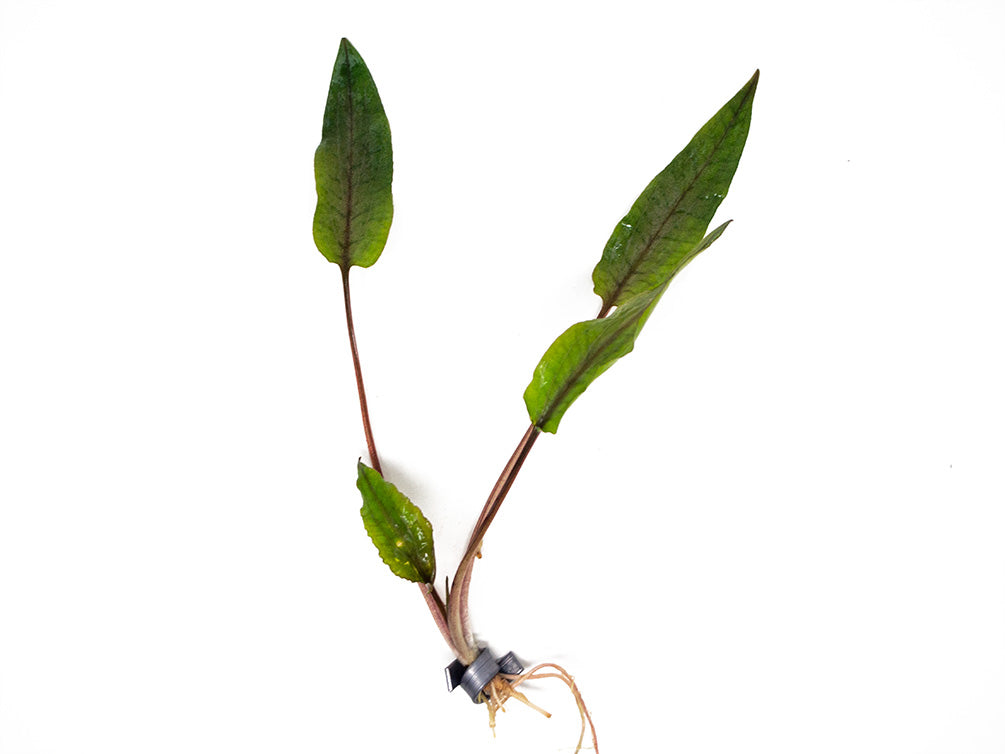 Undulated Crypt (Cryptocoryne undulata), Bare Root
Details
Undulated Crypt is an excellent midground to background plant whose color provides a great contrast with fully green plants, even in the low-tech and low-light aquarium!
Undulated Crypt (Cryptocoryne undulata) is a well-known rosette crypt that is native to Sri Lanka. It can grow to a respectable size of around 12 inches (20 cm), although it can be kept at half that size. It makes an excellent midground plant, or even a background plant in smaller aquariums. Its red-brown stem coloration and red coloration on green leaves are very striking and unusual compared to many other aquarium plants.
Undulated Crypt is slow to moderate in growth depending on lighting and nutrient levels. It can adapt to a reasonable variety of water parameters as long as it does not have to endure sudden changes. Like most Cryptocoryne species, it should be allowed plenty of time to "settle in" and should not be moved constantly. Once established, it will reproduce by sending runners that will grow into new plants.
CO2 supplementation is beneficial, but not necessary for this plant. It will also benefit from supplemental fertilizers and nutrient-rich substrate
No aquarium plant distributor/nursery/wholesaler/retailer can or will guarantee their plants to be 100% snail free. We can not guarantee our plants will be snail free. 
What We Like About This Plant:
Tissue Cultures contain no unwanted algae or pest animals
Unique red-brown coloration
Very versatile when kept in stable conditions
Great for low-light and low-tech setups
Excellent midground plant
Care Guidelines:
Temperature: 75 – 82.4° F (24 - 28° C)
pH: 6.5 - 7.5
Lighting: Low to Moderate
Origin: Grown in nurseries, but indigenous to Sri Lanka
Aquarium Placement: Midground to Background
Care: Easy
All Aquatic Arts brand plants and animals come with a 100% live arrival guarantee, plus free email support!