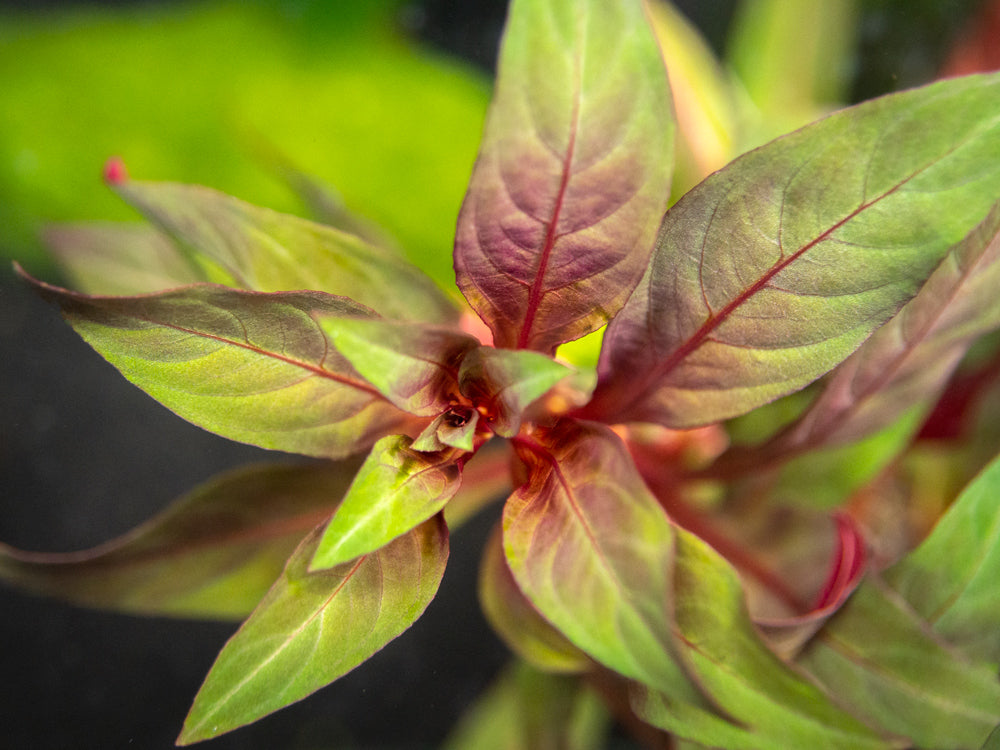 Red Star Ludwigia (Ludwigia glandulosa AKA L. peruensis), bunch
Details
Known as both Ludwigia peruensis and Ludwigia glandulosa, Red Star Ludwigia is among the deepest red plants in the world when kept in optimal conditions!
Red Star Ludwigia (Ludwigia glandulosa AKA L. peruensis) is a very attractive plant that can achieve complete deep red coloration, even more so than most other Ludwigia species. It is also unique in that it does not produce side stems like its close relatives and instead will grow straight upward past the water line if it is not trimmed. Red Star Ludwigia requires more care than most Ludwigia species, but is not necessarily an expert-level plant. With correct care, it can be among the most rewarding freshwater plants to view!
Red Star Ludwigia is best placed in the middle ground and will look its best under strictly high lighting. It grows at a slow rate with the correct maintenance and care. CO2 supplementation in particular is required for Red Star Ludwigia to really thrive and flourish. High lighting is required for it to maintain its deep red coloration. It can be planted in the substrate and stems of excessive length can be trimmed, then the cuttings can be replanted to increase the bunch.  It can also be planted emersed in paludariums and viquariums.  
(No aquarium plant distributor/nursery/wholesaler/retailer, can or will guarantee their plants to be 100% snail free, we can not guarantee our plants will be snail free)
What We Like About This Plant:
Beautiful red coloration with proper care
Moderately prolific and easy to prune
Perfect for a middle ground highlight
Does not produce side stems like many other Ludwigia species
Rewarding challenge for the ambitious aquarist
Care Guidelines:
Temperature: 68° - 82° F (20° - 28° C)
Origin: Indigenous to Middle and Southeastern United States, but cultivated in US nurseries
Aquarium placement: Middle
Care: Moderate to Difficult, CO2 supplementation is required for optimal growth
All Aquatic Arts brand plants and animals come with a 100% live arrival guarantee, plus free email support!