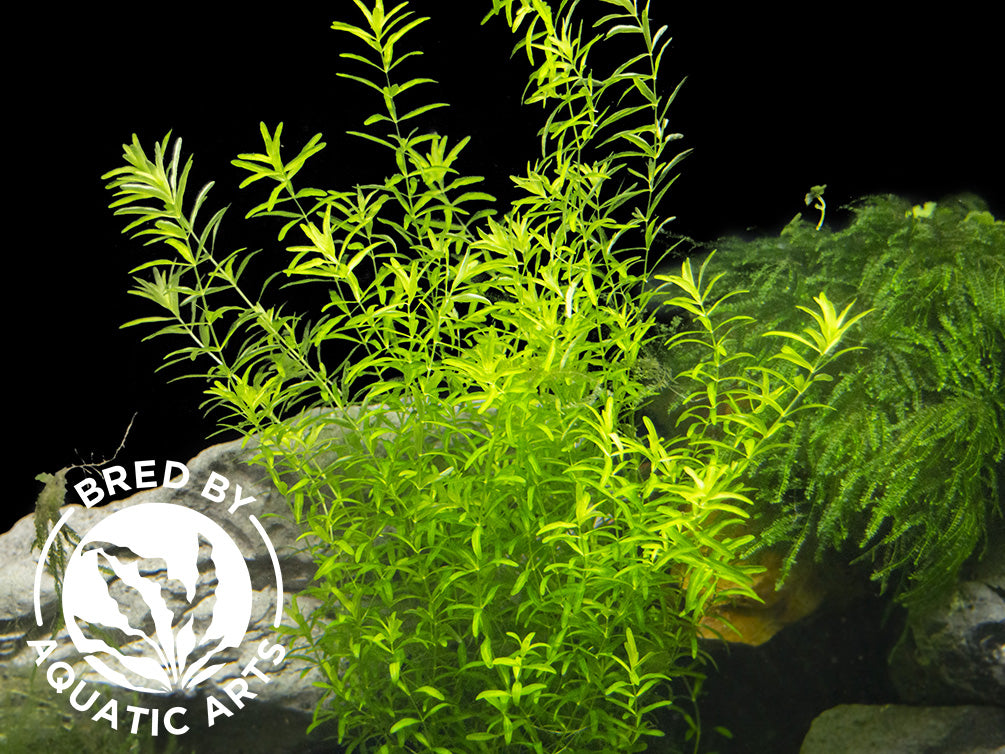 Pearl Weed AKA Pearl Grass AKA Baby Tears (Hemianthus micranthemoides), Bunch, Aquatic Arts Grown!
Details
Pearl Weed is an exceptionally versatile stem plant whose growth can be controlled through lighting, allowing placement in the foreground, midground, or background!  
We have propagated this plant in house from tissue cultures! The plant is grown in fully submerged conditions so it is ready to be housed in your tank right away with very little to no melt time!
Pearl Weed (Hemianthus micranthemoides), also known as Pearl Grass and Baby Tears is a very popular and versatile stem plant that is native to the Southeast United States, where it is now very scarce (if not extinct) in the wild. However, this lovely species is well-preserved in nurseries and is a staple of the aquarium hobby. Its name comes from the tiny air bubbles, also known as "pearls" that its leaves produce during optimal photosynthesis. 
Pearl Weed is a relatively undemanding plant. It requires moderate to high lighting and nutrient-rich water for optimal growth. While not necessary, CO2 supplementation is beneficial and will contribute to much faster growth and stability. It will grow in a dense mat under high lighting, especially with regular pruning and replanting. Under these conditions, horizontal growth will be optimal. Under less lighting and with less pruning, it will grow more vertically. It can be placed and treated according to the needs and wants of the aquarist to a very high degree.
Like most plants, Pearl Weed will benefit from supplementation such as Seachem Flourish, Flourish Excel, Nitrogen and other plant supplements.  
What We Like About This Plant:
Fast growing when kept in nutrient-rich water
Can be placed in any area of the aquascape
Provides protective cover for fry
Quickly covers large portions of the aquascape
Care Guidelines:
Temperature: 66° - 82° F (19° - 28° C)
pH: 6.3 - 7.2
Lighting: Moderate to High
Origin: indigenous to Southeastern United States
Aquarium placement: Any
Care: Easy
All Aquatic Arts brand plants and animals come with a 100% live arrival guarantee, plus free email support!