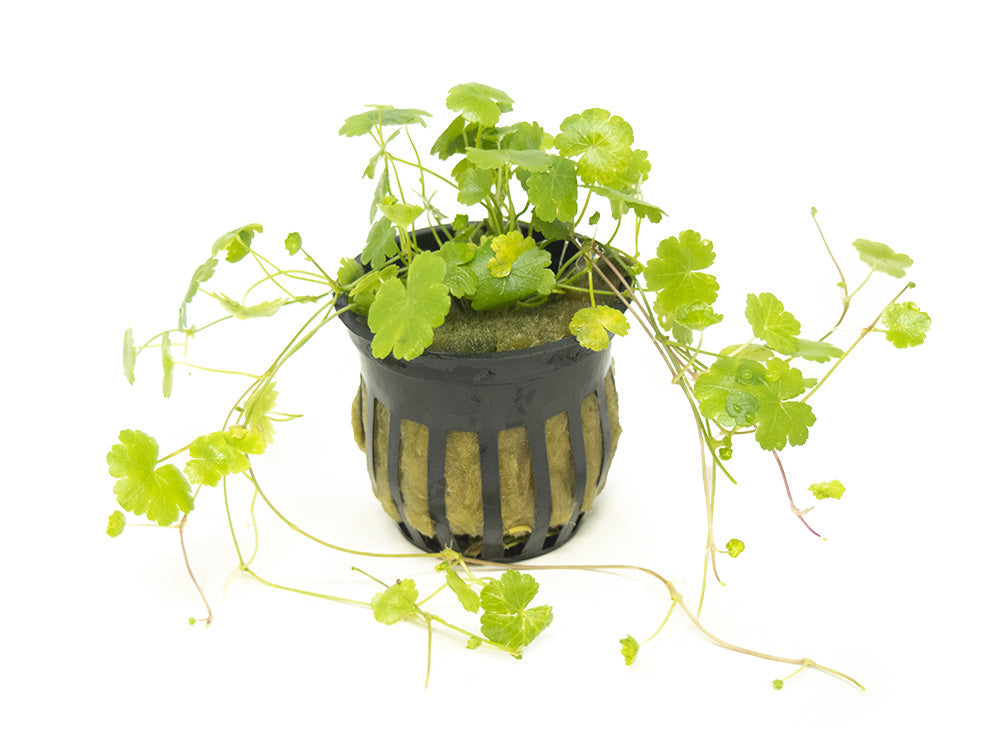 Japanese Dwarf Pennywort (Hydrocotyle tripartita var. "Japan"), potted
Details
Japanese Dwarf Pennywort is an incredible bright green, hardy carpeting plant that is excellent for almost any planted aquarium!
Japanese Dwarf Pennywort (Hydrocotyle tripartita var. "Japan") is a very popular foreground and middle ground plant for the serious freshwater planted aquarium. With proper care, this hardy, fast-growing plant can flourish and form a dense carpet in aquariums with high lighting, and it can grow into a bush-like formation in lower lighting.  Its lily pad-like leaves are very elegant and delicate in appearance.
This variety of Japanese Dwarf Pennywort can thrive in low to high lighting. It tends to grow densely and horizontally in high lighting, and it grows much more slowly, loosely, and horizontally in lower lighting. Its trimmings can be replanted to increase the size of the mat. If used for carpeting the aquarium, it should be trimmed weekly to promote horizontal growth. It does not require substrate, but does seem to absorb some of its nutrients through its roots when planted in substrate or attached to another surface. It will also sometimes even grow over rocks and mats. It will also benefit from CO2 supplementation, but this is not required. In fact, it will require much more frequent trimming when CO2 supplementation due to the dramatically increased, denser growth rate that such supplementation will promote.
Like most plants, Japanese Dwarf Pennywort will benefit from supplementation such as Seachem Flourish, Flourish Excel, Flourish Nitrogen, Flourish Iron, and other plant supplements.  
 What We Like About This Plant:
Very prolific growth in ideal conditions
Easy care, including lighting
Excellent foreground or middle ground plant
Provides protective cover for fry and can attach to or cover many surfaces in the aquarium
Care Guidelines:
Temperature: 72° - 82° F (22° - 28° C)
pH: 6.0 – 7.5
Lighting: Low to High
Potential Height: 2 - 4 inches (5 – 10 cm)
Origin: Indigenous to Southeast Asia and Australia
Aquarium Placement: Foreground in high lighting, Foreground to Middle in lower lighting
Care: Easy
Growth Rate: Slow
All Aquatic Arts brand plants and animals come with a 100% live arrival guarantee, plus free email support!