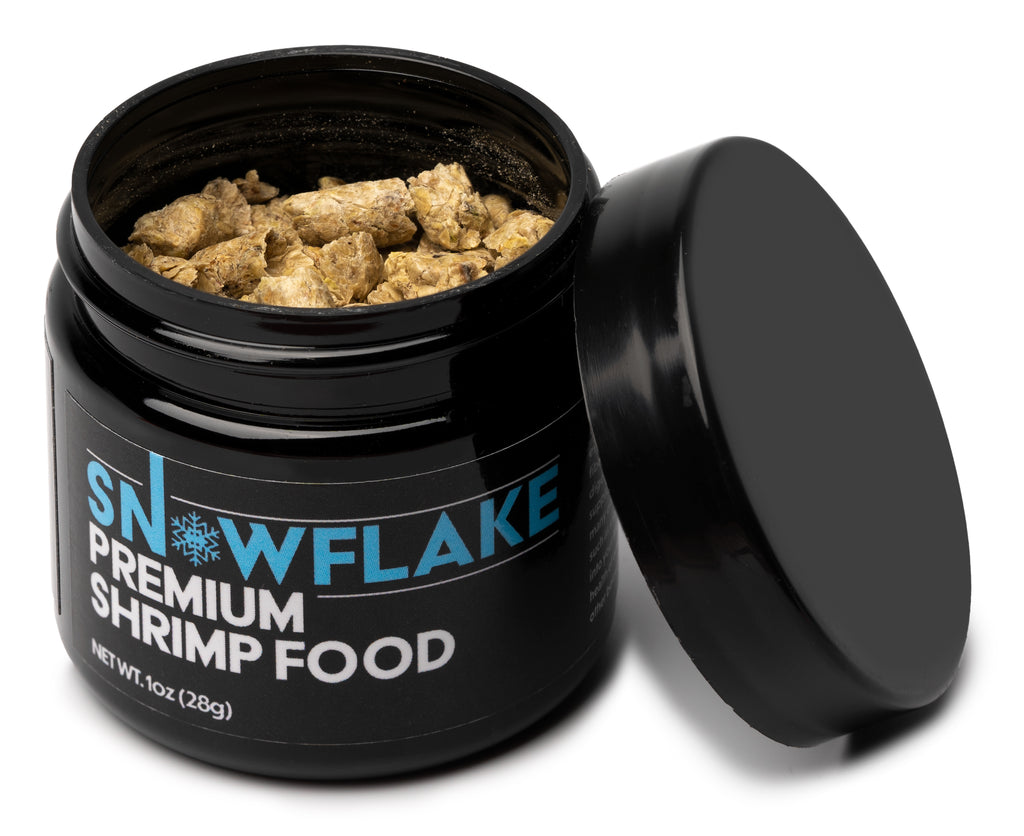 Aquatic Arts Snowflake Premium Shrimp Food (1-2 oz.)
Details
Snowflake Shrimp Food provides optimal nutrients for freshwater aquarium shrimp, crayfish, snails, and crabs. Combined with a traditional feeding routine, these pellets supply a wholesome source of protein and prebiotic properties that aid in healthy digestion! 
Best Shrimp Snowflake Food
Snowflake Premium Shrimp Food is a nutritious, supplementary freshwater shrimp food that stimulates the appetite while providing a healthy source of protein for a live shrimp freshwater aquarium. Made from soybean hulls, these shrimp food pellets are rich in vitamins, amino acids, trace minerals, fiber, and other beneficial ingredients. The prebiotic properties aid in digestion regulation for various types of freshwater shrimp, crayfish, snails, and crabs. Soybean hulls provide a natural growth media for mycelia, the vegetative part of a fungi that contains wholesome nutrients for shrimp. Whether you have a small aquarium or large aquarium, these tasty pellets will benefit the health and appearance of your aquarium tank. The shrimp food sticks disintegrate into small flakes that can last several days and won't pollute the water, making it an ideal vacation food. The small size and health advantages of the pellets also make them a great choice for baby shrimp. This complementary food can be used along with other foods.  See our page for other supplements!  
IRRESISTIBLE AND HEALTHY : Snowflakes are nutritious, supplementary pellets that stimulate the appetite for a live freshwater aquarium shrimp and invertebrates.
AQUARIUM FOOD SUPPLEMENT : Use this food with other staple foods. 
NO WATER POLLUTION : Pellets quickly disintegrate into small flakes that can be used as a constant food source for freshwater shrimp and invertebrates without polluting the water or causing buildup on aquarium accessories.
FEEDS MULTIPLE SPECIES : Nourish live aquarium shrimp, crabs, crayfish, and snails.
AQUATIC ARTS FOOD GUARANTEE : Arrives fresh and in prime condition. 
Feeding Suggestion:
Feed 1 - 2 pellets for every ten to fifteen adult shrimp. This food dissolves if uneaten and will not pollute the aquarium water.