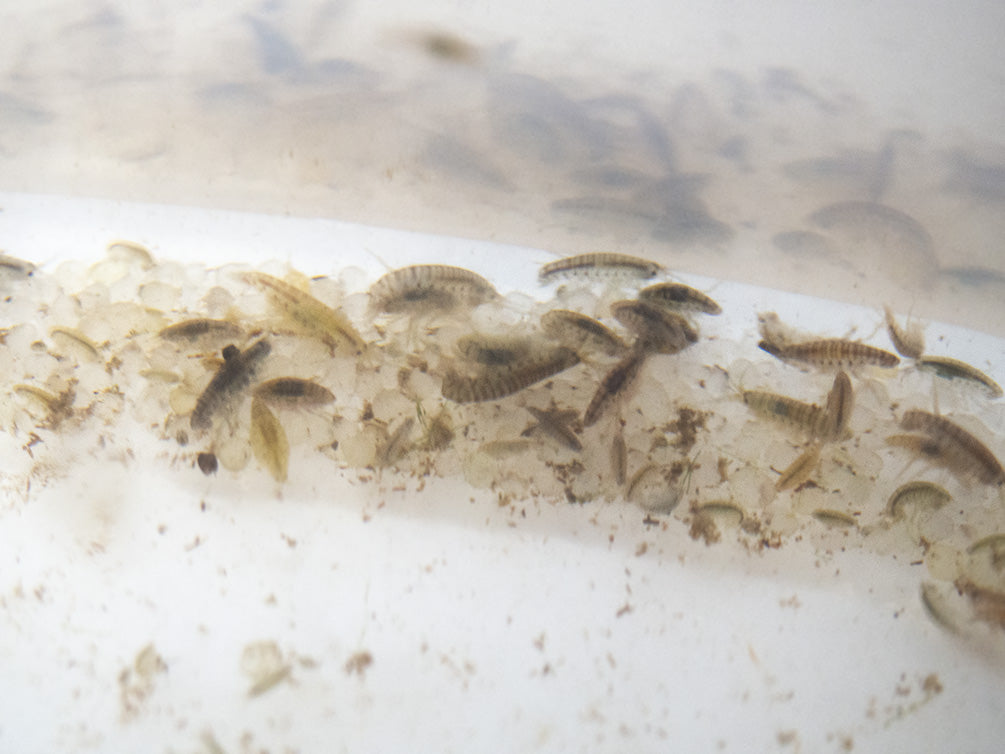 Live Scud AKA Freshwater Amphipod (Gammarus sp.) Culture - Aquatic Arts
Details
Scuds are one of the most ideal live foods for micropredators, plus they are easy to culture in the home aquarium!

Scuds (Gammarus sp.), also known as Freshwater Amphipods, are small, shrimp-like invertebrates that are native to many waterways throughout the world. Many members of the genus are also native to brackish and marine habiats. Scuds are detritivores that primarily feed on decaying plant matter and scavenge. In the aquarium, Scuds are a superb food source for micropredators, especially small fish. They will reproduce at a very prolific rate, and one starter culture is often enough to produce a virtually endless supply of live food, especially if cultivated in a separate tank where they are not outnumbered by predators.
Scuds mainly inhabit the substrate of the water column, but can also be found on plants and hardscape items. While they are considered generally harmless, they can easily overrun an aquarium with too few predators keeping the population in check. Scuds will eat decaying plant matter and other microfauna first, but may eat live plants (especially mosses) if nothing else is available. Scuds will also sometimes eat newly molted dwarf shrmp and their fry. All of these issues can be avoided by culturing Scuds in their own separate aquarium.  Scuds will reproduce at temperatures of 75° F (24° C) or above.
Our Live Scud Culture contains 50+ Scuds, which is more than enough to start a strong population.