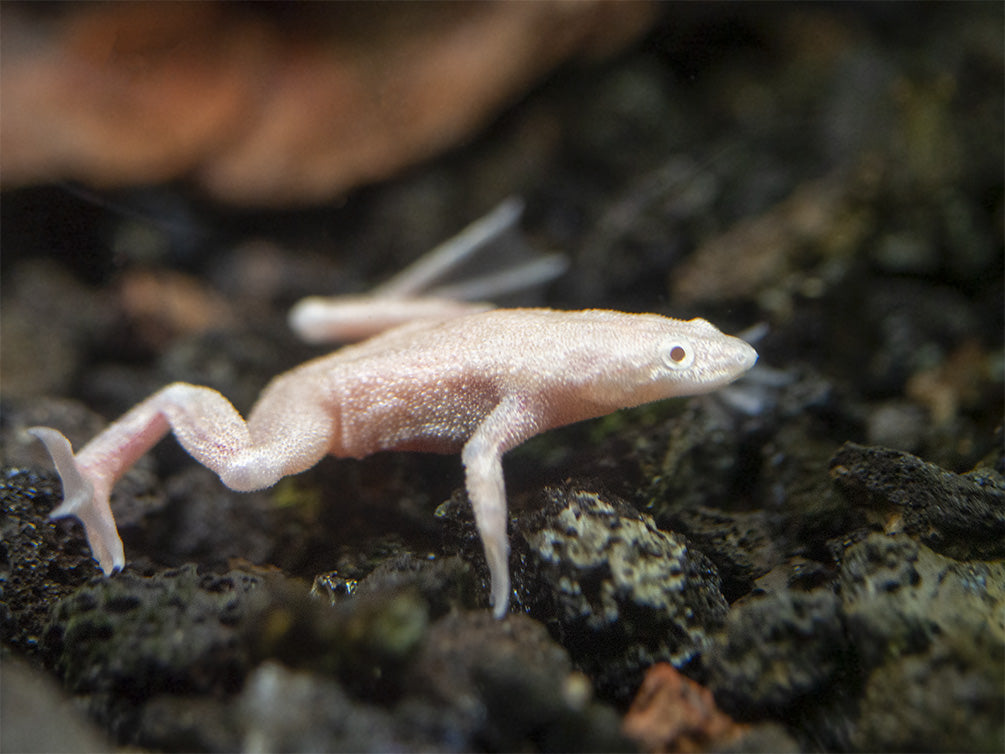 Golden Dwarf African Frog (Hymenochirus curtipes), Tank-Bred
Details
* For the safety of our animals, we ship this species exclusively via UPS 1 Day Air.  If your order contains this item, you will only see UPS 1 Day Air as a shipping option during checkout. * 
PLEASE NOTE:  THIS SPECIES
 MUST NEVER, UNDER ANY CIRCUMSTANCES, BE RELEASED INTO U.S. WATERWAYS, ALIVE OR DEAD. IN THE EVENT OF DEATH OF A SPECIMEN, THE SPECIMEN MUST BE FROZEN BEFORE DISPOSAL.
We cannot ship this species to Virginia. 
The Golden Dwarf African Frog is an extremely popular, fully aquatic species that is a classic in the aquarium hobby and it can be an excellent addition to the planted aquarium!
The Golden Dwarf African Frog (Hymenochirus curtipes) is a fully aquatic species that is native to slow-moving and stagnant waterways of Sub-Saharan Africa. Unlike the related African Dwarf Frog (Xenopus laevis), it maintains a small size of less than 3 inches (7.5 cm) and can be an excellent member of many community aquarium setups. 
The Golden Dwarf African Frog is a hardy species that is much less skittish than many other frogs and toads. While it is not too particular about water parameters, this species does require very clean water with very gentle flow. Regular maintenance is essential since it is a messy and voracious eater. It will thrive in an aquarium with some decor for cover. The Golden Dwarf African Frog is not afraid to jump and climb, so a secure, tight-fitting lid is necessary to prevent it from escaping its enclosure.
While it is a generally peaceful species with other animals too large to be considered prey, the Golden Dwarf African Frog is a predator that will eat anything that it can fit in its mouth, so it is not a good candidate to be housed with tiny fish and invertebrates such as dwarf shrimp. The Golden Dwarf African Frog should never be kept with large or aggressive fish that might bully or prey upon it. It can live communally with its own species.
A scavenger by nature, the Golden Dwarf African Frog is not a picky eater. In fact, care must be taken to ensure that it does not overeat. It will easily eat most high-quality live, frozen, and dry amphibian and fish foods, although it typically will not eat most flake foods. Variety without overfeeding is crucial in providing long-term, comprehensive nutrition to the Golden Dwarf African Frog.
What We Like About This Animal:
Extremely unique and entertaining
Very hardy and adaptable

Very active and outgoing
Thrives in the planted aquarium

Compatible with other species too large to be considered prey
RECOMMENDED TANK PARAMETERS: 
Temperature:  72° - 78° F (22° - 26° C).
pH:  6.5 - 7.8
KH:  5 - 20 dKH
Minimum tank size:  10 gallons for a small group
CARE GUIDELINES:
Diet:  Scavenger. Requires a varied diet of live, frozen and dry foods
Social behavior:  Peaceful with its own species and other non-prey species
Origin:  Tank-bred, but indigenous to Sub-Saharan Africa
Average adult size:  2 inches (5 cm), females are larger than males
Average purchase size:  1 - 1.5 inches (2.5 - 3.8 cm)
All Aquatic Arts brand plants and animals come with a 100% live arrival guarantee, plus free email support!