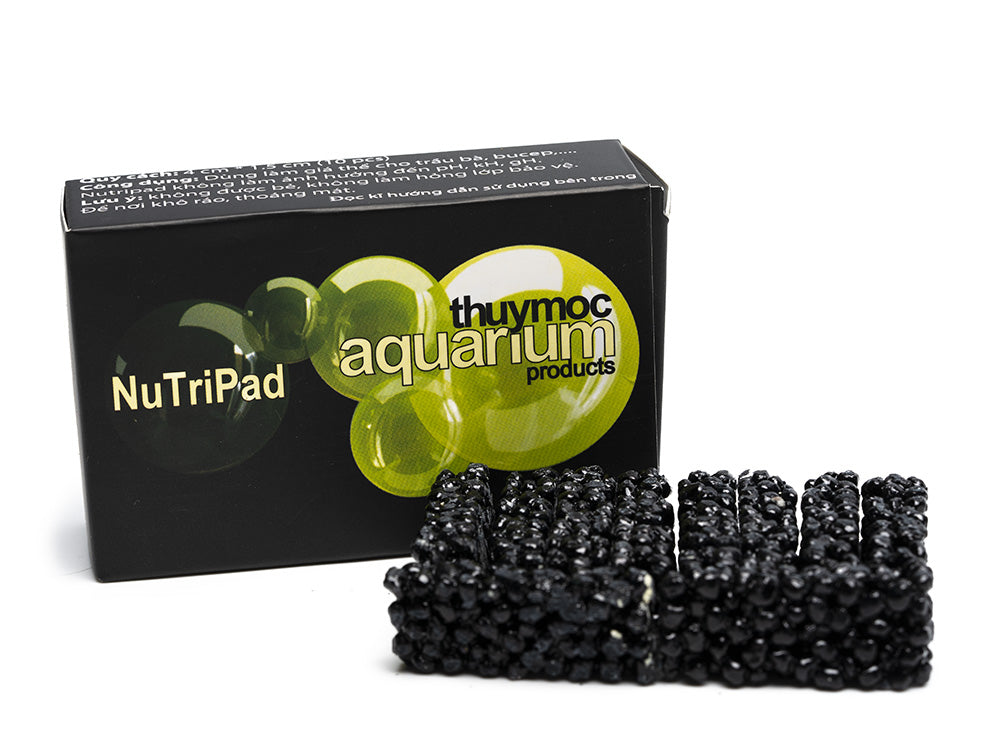 Thuymoc NuTriPad Plant Growth Media
Details
Thuymoc Nutripad plant growth media is a revolutionary, nourishing base for your aquatic plants! 
We are excited to offer three different types from Thuymoc aquarium: 
- 4 cm (4 x 1.5) & includes 10 pieces in the box
- 5 cm (5x5) & includes 5 pieces in the box
- 6 cm (6x2) & includes 10 pieces in the box
This a nutritional growing medium for rhizome plants such as Bucephalandra, ferns, Anubias plants, and aquatic moss, but it can also be used as root fertilizer.  It dissolves a fixed amount of nutrients each day. This can be done by lining NuTriPad at the bottom of the aquarium as base fertilizer, placing it next to aquatic plants as stool fertilizer, or placing it in the filter box as liquid fertilizer. Whichever way you use it, it dissolves a fixed amount of nutrients every day without being affected by external conditions.
NuTriPad does not affect pH, kH or gH. It is particularly clean and can be used up to 5-6 months (depending on the aquarium) before the nutrients run out and it will stay as the growing medium for your aquatic plants during that time.
Specific Functions : 
Promotes lush growth of aquarium plants
Contains iron
Safe for use with tropical fish, shrimp, and aquarium invertebrates 
For use in freshwater planted aquariums
Promotes strong root development 
Contains key essential nutrients to stimulate plant growth 
Gets new plants off to a good start and keeps established plants flourishing
Important Notes: 
Do not break or damage the protective layer.
Put NutriPad at the bottom of the tank with a dose of 1 piece for 5 gallons (20 L) of water.
Do not overdose.
When not in use in the aquarium, store in a cool, dry place.
Do not break 4 cm and 5 cm size into smaller pieces or damage protective layer. 6 cm size is designed to be broken into smaller pieces.
Please read usage instructions carefully.