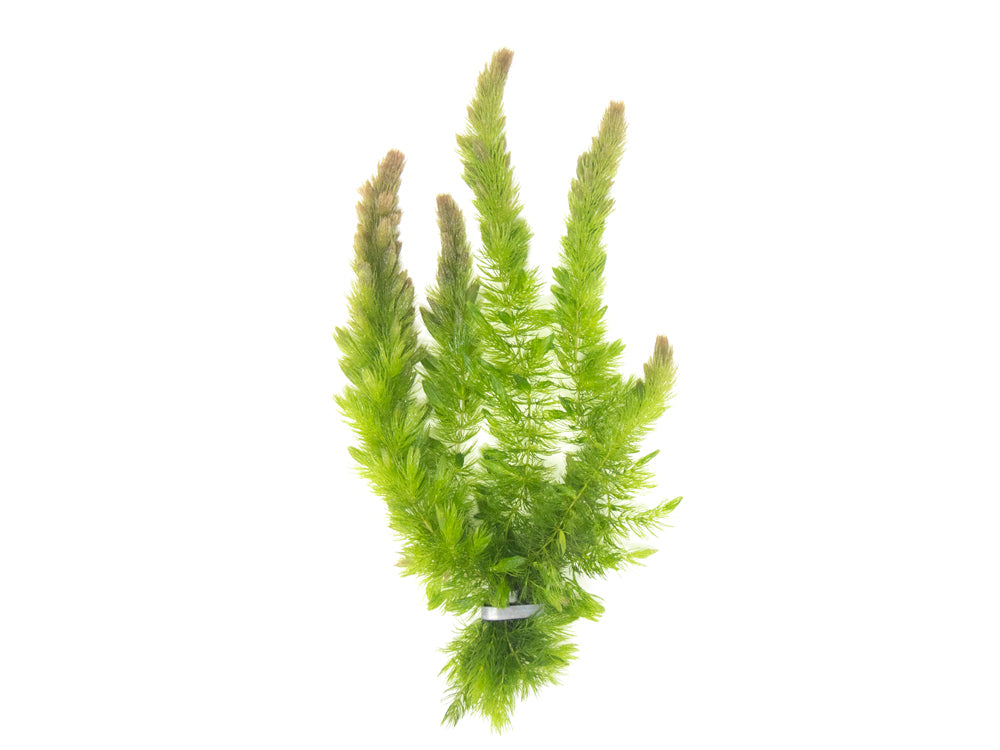 Hornwort (Ceratophyllum demersum)
Details
We HIGHLY recommend a plant dip for Hornwort to help ensure that no pesky critters make it into your tank. Hornwort is grown in an outdoor nursery. We can not treat these plants with harmful chemicals as it would put not only our livestock at risk, but our customers' livestock as well. Please give this plant a very good rinse upon arrival. We do all we can to prevent these unwanted guests from traveling with all of our plants, but snails and sometimes other critters are tricky and can slip through the cracks. We treat our plant tanks with Fenbendazole, an anti-parasitic medication that kills snails and worms but does not harm most other aquatic animals or plants. Unfortunately, this does not work 100% of the time. It is very common for plant sellers to unknowingly send snails with plants, because pest snails are pros at hiding their eggs inside the plants.
Hornwort, also known by its scientific name Ceratophyllum demersum, is a floating stem plant with no roots (though it can easily be anchored in substrate or a pond floor).  It features bright to dark green, needle-like leaves and is very fast-growing.  When adequate nutrients are available, Hornwort stems can easily grow 1 inch per week. 

It is easy to grow and is fine with low-light and outdoor setups, although more light means faster and denser growth.  Hornwort grows by absorbing waste (including ammonia and nitrates) from the water, which means it reduces pollutants that cause smelly or cloudy water and makes for happier aquarium or pond inhabitants!  Like all live aquarium plants, Hornwort has the potential to reduce or even eliminate the need for water changes in your aquarium.

Hornwort is great for aquariums, but its hardiness, as well as its fast and dense growth, makes it very popular for outdoor ponds as well.  An order of Hornwort comes with 2 or more ascending axes, with 10+ stems total.  It's a great plant for beginners because it does not require special equipment, care, or knowledge.


No aquarium plant distributor/nursery/wholesaler/retailer can or will guarantee their plants to be 100% snail free. We can not guarantee our plants will be snail free.
What We Like About This Plant:
Leaves that resemble short pine needles

Thrives in any lighting

Extremely fast-growing

Great for both aquariums and ponds

CARE GUIDELINES: 
Temperature

:  50° - 77° F (10° - 25° C)


pH

:  6.0 - 7.5


Lighting

:  Low to moderate


Origin

:  Tank-raised.  Naturally grows worldwide.


Aquarium placement

:  Middle to background

Care

:  Easy

All Aquatic Arts brand plants and animals come with a 100% live arrival guarantee, plus free email support!