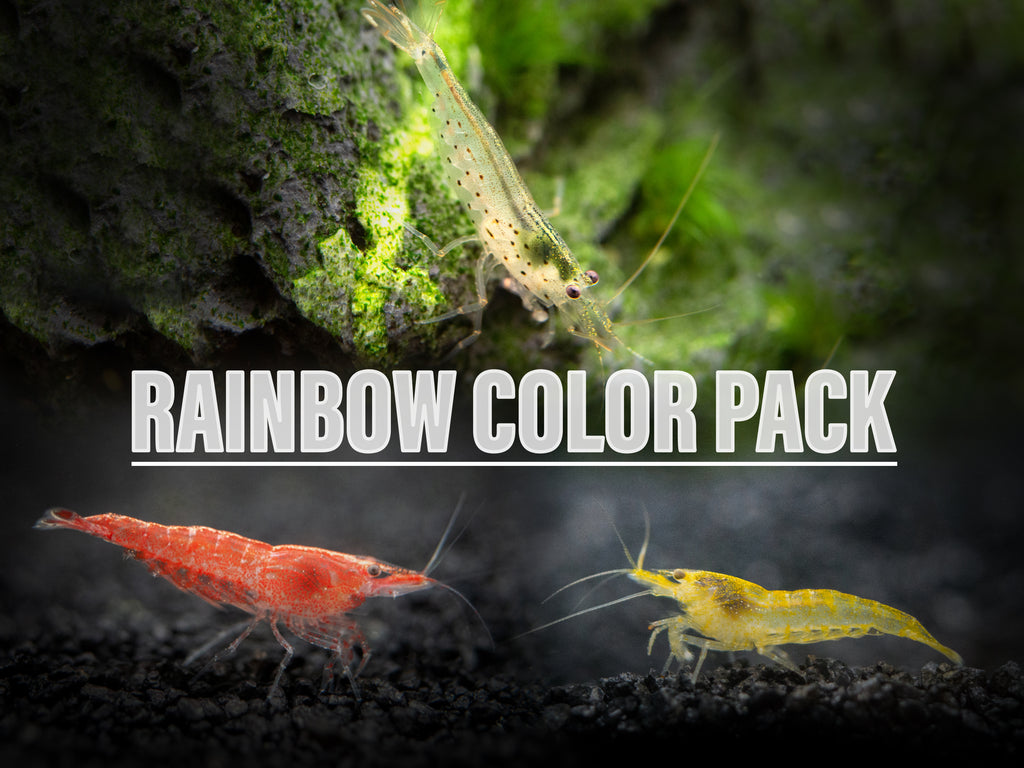 Dwarf Shrimp Rainbow Combo Pack
Details
Liven up your aquarium with 3 different colors of incredible dwarf shrimp!
Includes Sakura Red Cherry Shrimp, Neon Yellow Shrimp, and Amano Shrimp.
Add a rainbow of color to your aquarium with this Dwarf Shrimp Combo Pack!  This is perfect for small aquariums, and it's a great way to get three colors of shrimp without paying more for the individual shrimp.  Each type of shrimp features fantastic coloration that is sure to stand out in any aquarium.

All three of these varieties of shrimp can live in the same parameters.  They are shipped out as young adults and are already of breeding age.  After breeding for some time, these shrimp will form a rainbow-colored colony of shrimp that work as a very effective cleaning crew for your tank in regards to algae and other waste.
INCLUDED IN THIS PACK ARE THE FOLLOWING:

Sakura Red Cherry Shrimp: These shrimp feature a deep red coloration that contrasts particularly well with green plants.  We ship out young adults that range from .5 to .75 inch long.
Neon Yellow Shrimp: These are a brilliant yellow that adds cheer and charm to any aquarium set-up.  We ship out young adults that range from

.5

 to 

.75

inch long.
Amano Shrimp:

 

These shrimp grow about twice as large as dwarf shrimp, attaining a maximum size of over 2 inches in length! Their bodies are translucent with a bluish tint, and are covered in small, dark red dots.  We ship out young adults that range from .5 to 1.5 inches long.
*To see more information on each type of shrimp, see their individual listings.
RECOMMENDED TANK PARAMETERS:
Minimum tank size: 

2 gallons, recommended 10 gallon minimum for a colony

Temperature: 64° - 78° F (17.8° - 25.5° C)
pH: 6.8 - 7.5
dGH: 6 - 15

dKH

: 0 - 10 
TDS: 180 - 400
CARE GUIDELINES:
Diet: Scavenger that feeds continually.  Requires very little feeding in a well-established aquarium containing algae, biofilm, or decaying plant matter. In less mature aquariums, high quality dry foods with high plant content can be

 

fed multiple times daily. 

Aquatic Arts Snowflake Premium Shrimp Food

 

& Aquatic Arts Pollen Granules Premium Shrimp Food are excellent supplements to the diet of any shrimp. Give them a try and your shrimp will thank you for the tasty treat! 
Natural Botanicals

 are a great way to boost the immune system of your shrimp and they will also provide lots of essential biofilm for the shrimp to graze on.

Social behavior

: Peaceful.  Sakura Red Cherry and Neon Yellow Shrimp can continually replenish and grow their population, but this does not apply to Amano Shrimp

Origin

: Tank-raised in and indigenous to Taiwan
All Aquatic Arts brand plants and animals come with a 100% live arrival guarantee, plus free email support!