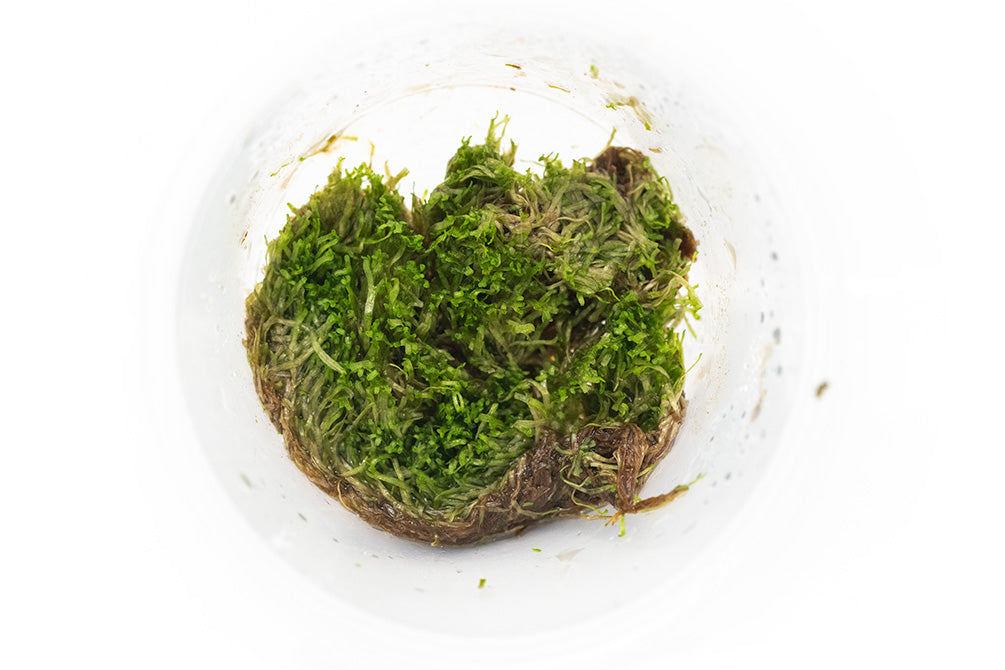 Crystalwort (Riccia fluitans), portion
Details
This floating plant is very prolific and is excellent for partially diffusing high-intensity light as well as a variety of aquascaping projects!
Crystalwort (Riccia fluitans) is one of the most popular and flexible plants for the serious freshwater aquarium.  This plant naturally grows as a mass that floats at the surface of the water.  However, it can also be collected in a piece of hair net and tied to driftwood and rockwork.  This netting can also be placed and weighed down across the substrate and, in time and with the proper care, it creates a lush green carpet that can cover the entire foreground of the aquarium.  It can also be attached under the same sort of netting to cover rocks and driftwood as well.  It is very easy to maintain and propagate.  
While not an expert-level plant, Crystalwort requires pruning and maintenance for optimal health.  Once established, it tends to grow very quickly and can develop dead spots in its mass when it is overgrown. CO2 supplementation is beneficial and will contribute to much faster growth and stability.  However, when it is attached properly and pruned regularly, Crystalwort looks very elegant and can be used to create the illusion of an underwater tree when it is attached to thin branches of driftwood.
Like most plants, Crystalwort will benefit from supplementation such as Seachem Flourish, Flourish Excel, Nitrogen and other plant supplements.  
No aquarium plant distributor/nursery/wholesaler/retailer can or will guarantee their plants to be 100% snail free. We can not guarantee our plants will be snail free.
What We Like About This Plant:
Rich, bright green coloration

Easy to moderate care

Provides protective cover for fry and can be attached to most any surface in the aquarium

This plant can be used in a vast variety of ways in aquascaping.

 
Care Guidelines:
Temperature: 59° - 86° F (15° - 30° C)

pH: 6.0 - 8.0

Lighting: Moderate to high

Origin: Indigenous to Japan (submerged variety)

Aquarium Placement: Any, including floating

Care: Easy

 
All Aquatic Arts brand plants and animals come with a 100% live arrival guarantee, plus free email support!