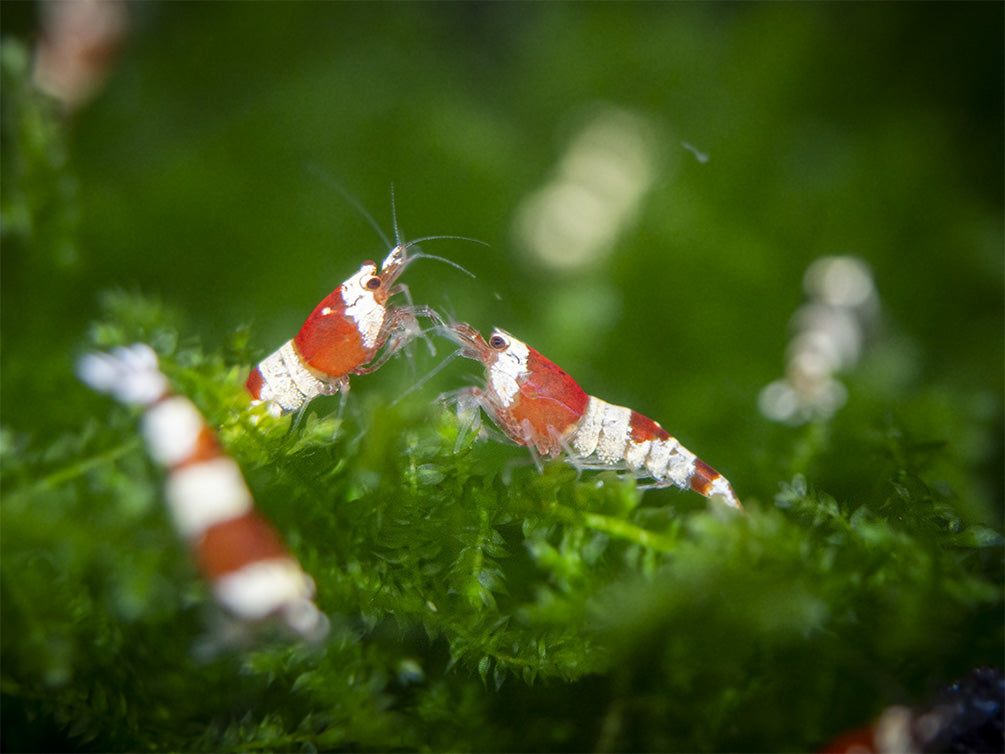 Crystal Red Shrimp Combo Box
Details
Crystal Red Shrimp COMBO BOX:

This is a combo box designed for optimal health and tank conditions for your new Crystal Red shrimp. Your Shrimp Combo Box will include the following: 
10

Crystal Red

 Shrimp ($64.99)
Or
20

Crystal Red

 Shrimp ($124.99)
Botanical Breeder Combo Pack ($14.99)
Aquatic Art's Choice Live Moss Loose Portion ($9.99)
If Purchased Separately you would have to pay $99.96 or $159.96 for the contents of this combo box! Start your shrimp tank the right way with this great deal! 
Their breathtaking red and white coloration makes this one of the most sought-after shrimp in the world!
Crystal Red Shrimp (Caridina cantonensis) are notorious for their very striking red and white coloration that makes them stand out magnificently against any backdrop or substrate.  We have offered these special shrimp in the past, and we are thrilled for the opportunity to offer them again to our newer customers!
These shrimp are A-S grade, meaning the intense coloration covers most or all of the body.  Higher grades of Crystal Red Shrimp actually have more white coverage and less red coverage on their carapace. The genetics that the higher grade crystal shrimp poses can make them a little more difficult to keep as they are more sensitive than the A or S grades.  Because of this, A-S grade Crystal Red Shrimp are the best starting point for anyone that wants to keep Crystal Red Shrimp.  Also, though this is a matter of opinion, we personally find A-S grade shrimp to be the most beautiful because they have equal amounts of red and white.
What We Like About This Shrimp:
Features unique and striking striped coloration
Completely peaceful with all non-aggressive tankmates
Safe with all plants
Excellent scavenger
RECOMMENDED TANK PARAMETERS:
Minimum tank size:

 

2 gallons, recommended 10 gallon minimum for a colony

Temperature: 68° - 72° F (20° - 22.2° C)
pH: 6.2-6.8
dGH: 3 - 6
dKH: 0 - 1 
TDS: 90 - 130
CARE GUIDELINES:
Diet: Scavenger that feeds continually.  Requires very little feeding in a well-established aquarium containing algae, biofilm, or decaying plant matter. In less mature aquariums, high quality dry foods with high plant content can be

 

fed multiple times daily. 

Aquatic Arts Snowflake Premium Shrimp Food

 

& Aquatic Arts Pollen Granules Premium Shrimp Food are excellent supplements to the diet of any shrimp. Give them a try and your shrimp will thank you for the tasty treat! 
Natural Botanicals

 are a great way to boost the immune system of your shrimp and they will also provide lots of essential biofilm for the shrimp to graze on.

Social behavior

: Peaceful.  A small group can continually replenish and grow its population

Origin

: Tank-bred in and indigenous to Taiwan

Average adult size

: 1 - 1.5 inches (2.5 - 3.8 cm)

Average purchase size

: 1/8 - 1/2 inch (.32 - 1.3 cm)
All Aquatic Arts brand plants and animals come with a 100% live arrival guarantee, plus free email support!