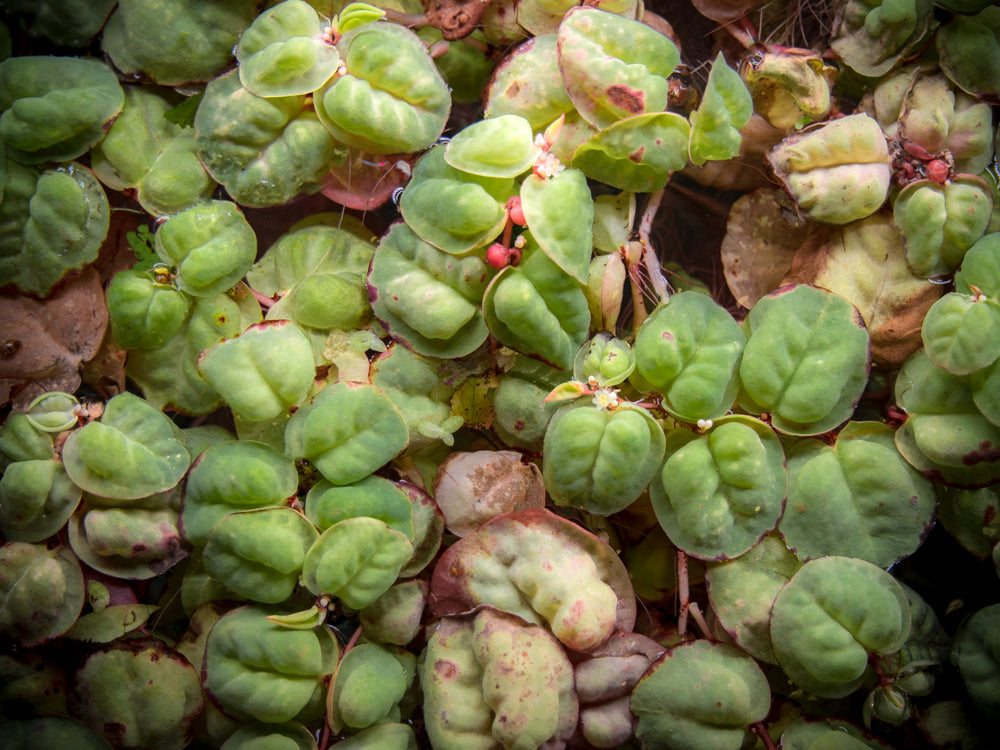 Red Root Floater (Phyllanthus fluitans)
Details
This plant is one of the best-looking floating plants for the aquarium and it propagates quickly!
Red Root Floater (Phyllanthus fluitans) is a South American floating plant that is known and highly desired for its bright red roots and underside. Under high lighting, its leaves can turn completely red! This hardy plant propagates quickly and can provide shade to areas of the aquarium, which will encourage more reclusive species to come out of hiding. This is a truly beautiful and very beneficial plant for aquariums with gentle water flow.
Care is extremely easy for Red Root Floater. It can thrive in a relatively wide pH range as well as low to high lighting. Its only major specific requirement is that it reportedly does not do well with a high level of surface agitation. It is best kept in an aquarium with gentle water flow. Under these simple conditions, it will multiply very quickly and provide significant denitrification as well as oxygenation, which is particularly important in aquariums with low water flow. It does not require CO2 supplementation.
Like most plants, Red Root Floater will benefit from supplementation such as Seachem Flourish, Flourish Excel, nitrogen, iron, and other plant supplements.
No aquarium plant distributor/nursery/wholesaler/retailer can or will guarantee their plants to be 100% snail free. We can not guarantee our plants will be snail free.
What We Like About This Plant:
Bright red roots and underside under any lighting
Overall red leaves under high lighting
Provides shade to areas of the aquarium
Very hardy and durable in low water flow
Care Guidelines:
Temperature: 70° - 82° F (21° - 28° C)
pH: 6.5 - 7.5
Lighting: Low to High
Origin: Indigenous to South America, cultivated in US nurseries
Aquarium placement: Floating
Care: Easy
Note: All of our floating plants are grown at an outdoor nursery, there is a chance of duckweed being in any floating plant package
All Aquatic Arts brand plants and animals come with a 100% live arrival guarantee, plus free email support!